As we near the end of this crazy-busy holiday season at Ski Shack, our cup is running over with gratitude for a 2022 that was, by any measure, superlative. With New Year's Eve in the wings, we're ready to celebrate with a cocktail. 
Earlier this week, Ski Shack owner Melissa Roberts stopped by Kevin's Bar & Restaurant in Kingston, PA for a much-appreciated date night. We love Kevin's — the entire experience is comfortable, graceful, easy. 
During this visit, a spritzy, herb-laced cocktail left Melissa with lingering warmth. It's a spin on the classic vodka-cranberry Cape-Codder from Kevin's bar manager John Segear. The drink is merry and bright with twinkly bubbles and tart fruit, with a touch of orange bitters for a dry finish. 
For Melissa, the drink summoned notes of nostalgia, and warm memories of a mother — longtime Ski Shack owner-operator Lee Ann Mitchell — whose go-to drink was the vodka-cranberry-orange Madras. 
We've missed Lee Ann since she passed away in 2018, and this New Year's, we're drinking to her. We're also toasting a 2022 of growth and change, and we're looking toward 2023 with big ideas.
We're also toasting John at Kevin's for sharing his recipe for Christmas on the Cape with us, and we're excited to share it with you. If you're not up for making it at home, you'll never regret a trip to Kevin's to taste the OG version.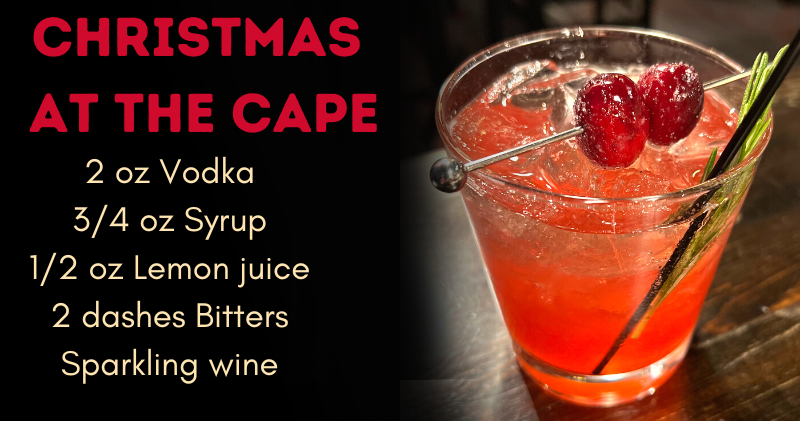 Christmas at the Cape
Courtesy of John Seagear and Kevin's Bar & Restaurant
Makes One Cocktail
If you're hosting, you can make a big batch (hold the wine) and keep it in the fridge — just top each glass with sparkling wine to serve. If you don't feel like making cranberry-rosemary syrup (it's easier than you think) you can sweeten it with a splash of Luxardo cherry liqueur, or grenadine, or cranberry juice. In the spirit of Lee Ann, you could even swap OJ for the lemon juice ...
And, if you're off the sauce, skip the vodka and swap seltzer (cranberry-lime, cherry or orange would work well) or ginger ale for the wine. Sweeten with syrup, grenadine or an ounce of cranberry, cherry or pomegranate juice.
Ingredients:
1-2 ounces Tito's vodka
¾ ounce cranberry-rosemary syrup*
½ oz lemon juice
2 dashes orange bitters
Sparkling wine
Candied cranberries**
Sprig rosemary
Directions:
Fill a cocktail shaker with ice; Combine vodka, syrup, juice and bitters. Shake with gusto. 
Fill a rocks glass with ice; strain the vodka mixture into glass. Top with sparkling wine and garnish with candied cranberries and a sprig of rosemary. 
*You can buy simple syrup at the liquor store, but it's a snap to make at home. Combine equal parts sugar and water (1 cup of each will yield enough for dozens of cocktails) in a saucepan; warm over medium heat until the sugar dissolves. Store in the fridge. To infuse cranberries and rosemary, add cranberry juice (use 100% juice for strong cranberry flavor) and rosemary to sugar-water mixture; reduce at a low boil until it reaches a syrupy consistency. 
**To make candied cranberries, toss berries in simple syrup, remove and roll in sugar and set them on a rack to dry.