Posted on
By Ski Shack
Posted in Skiing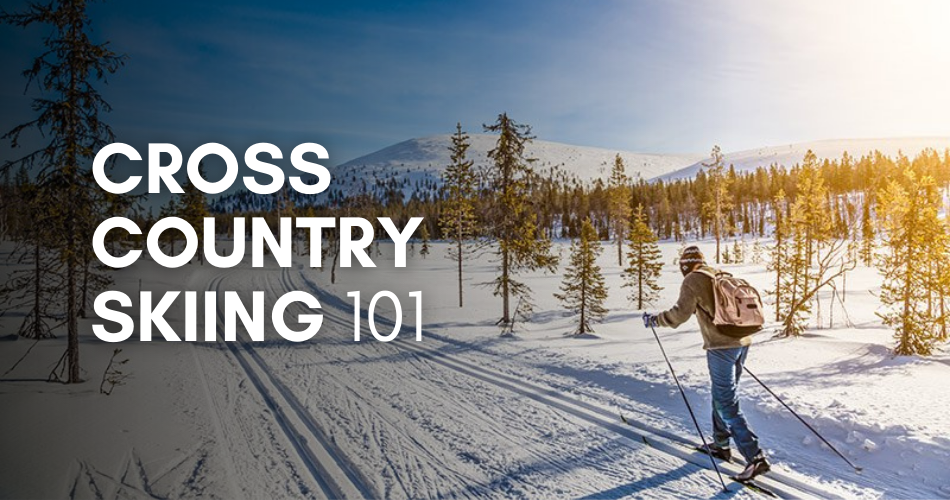 If you're looking for a fun way to explore the outdoors during the winter months, cross country skiing is the perfect activity for you. Cross country skiing can be an intense workout or a relaxing trek, and sometimes it can even be both. We're going to break down everything you need to know before you head out.
There are three different types of cross country skiing: classic, skate, and Backcountry (also known as "BC"). Classic skiing is where most people begin when they want to start cross country skiing. This type of skiing is executed with a forward and back motion that resembles how you walk or run, which is why it is the type most beginners start with. Classic skiing is normally done on groomed trails that gently roll. Classic skis are normally longer to help increase forward glide. To create traction, classic skis have a grip zone underfoot that can either be a sticky wax or a built-in fish scale pattern. These skis also have a pronounced camber that allows the grip section to lift off the snow.
Skate skiing is similar to what speed skaters do on the ice. To move, you push your skis out to the side, using the edges of your skis to propel yourself forward. This type of skiing is done on groomed and flat terrain. Skate skis do not have a grip zone and instead have a smooth base. These skis are also lighter, skinner, and shorter than classic skis.
BC skiing has a motion similar to classic skiing in that it is a kick and glide motion where you keep your skis parallel. BC skiing feels best when in deep snow conditions and is done on ungroomed rolling terrain. BC skis are usually wider and shorter, delivering better stability and float in ungroomed terrain. These skis also have metal edges for better grip and better turning ability.
Cross Country Boots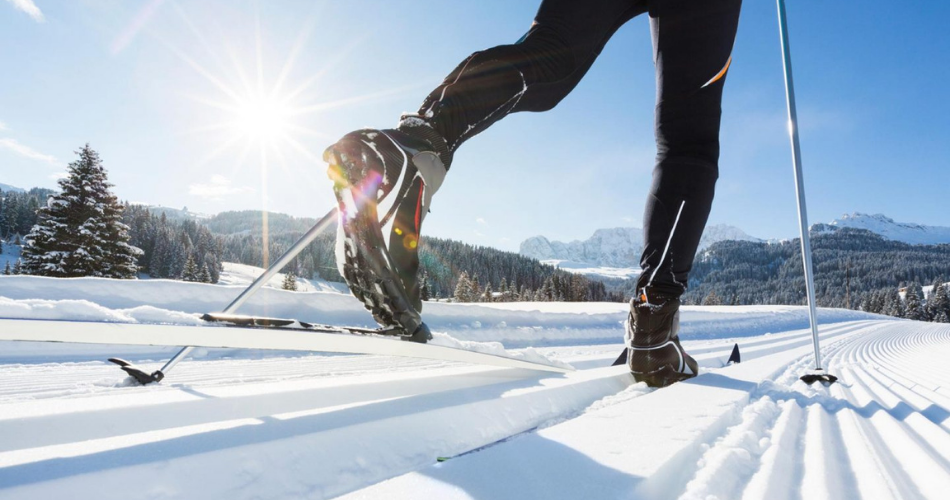 Boots are arguably one of the most important pieces of gear in your kit. Correctly fitting boots can make or break your day of skiing, so it is important that you put some time into finding the right boot for you. These boots are sized like hiking boots are and should fit snug with enough room to wiggle your toes.
Boots for the different styles require different levels of support and flex. That being said, there are some boots built for both classic and skating styles and are known as combi boots.
Boots for the classic style put comfort and stability first. They have the right amount of flexibility to allow you to flex your feet and ankles naturally during motion. Boots for the skating style are usually stiffer and higher cut. They provide more structure for the ankle, which helps support the motion needed for this type of skiing. Combi boots deliver a blend of features for both styles. These boots are a good way to save money for those who ski both styles. BC boots are stiff, durable, warm, stable, and comfortable. They typically offer better insulation and better support.

Finding the correct cross country ski length for you will ensure that you get the optimal amount of grip and glide. These types of skis are sized according to the user's weight. Physics plays a large part in the sizing of this ski because the skier's weight needs to be evenly distributed across the ski so that they do not sink into the snow. When buying this type of ski, you should always take a look at the manufacturer's size charts because a lot of times, individual models come with their own recommended sizing.
Types of Cross Country Bindings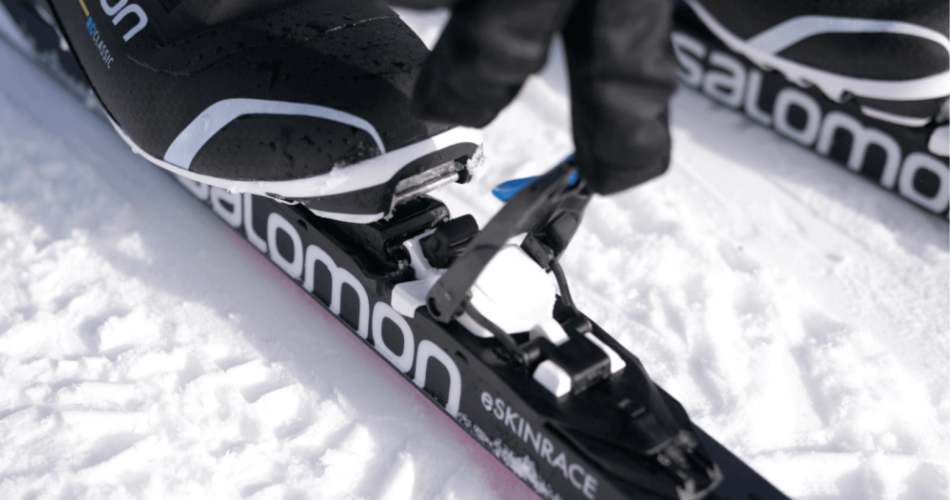 Now that we've talked about boots and ski length, we can talk about the bindings needed for these types of skis. There are three main types of bindings NNN (New Nordic Norm), SNS (Salomon Nordic System), and BC. These systems aren't compatible with each other, meaning you can't use an SNS boot with an NNN binding. There's also a three-pin system that isn't used as often as it once was. If you're not sure where to start, it is recommended that you first find a boot that you like and then find a binding that is compatible with it.

Cross Country Ski Poles

Another piece of equipment you will need are ski poles. Ski poles are made from either aluminum or composite carbon. Aluminum poles are more durable and are less expensive. Classic and BC style skiers typically use these poles. Composite carbon poles are lighter, more expensive, and typically used by skate style skiers.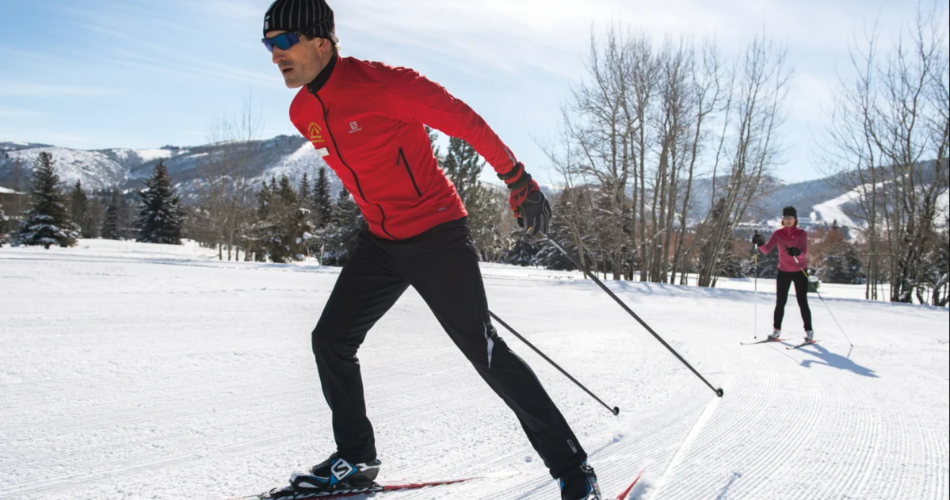 Pole sizing is fairly straightforward. Classic poles should come up to your armpit when you are standing straight up. Skating poles should be about 10 cm higher than your armpit, and BC poles should be about 5 cm shorter. Poles typically have small semicircle baskets for classic and skate-style skiing, while BC poles should have a larger basket for deep snow.
What to Wear When Cross Country Skiing

When picking out clothing for cross country skiing, you should make sure that your clothing isn't cotton-based because this type of cloth retains moisture and heat. It is best to avoid these types of clothing so that you stay dry. It is also recommended to dress in layers so that you can easily control your body temperature. When getting dressed, you should start with a moisture-wicking base layer, then add an insulated jacket or vest followed by a cross country, fleece, or softshell jacket as your outermost layer. You should also start with a moisture-wicking base layer for bottoms and then add cross country, fleece, or softshell pants. Next, add a pair of synthetic or wool socks, gloves or mittens, a neck gaiter, sunglasses, and a hat or balaclava.
Other Gear You'll Need for Cross Country Skiing

Now that you know what to wear to stay warm let's talk about some of the gear needed when you're ready to head out. It is recommended that you bring a day pack or waist pack to hold extra gear for your adventure. Some gear that you can put in your pack includes a multi-tool, repair supplies, water bottle, snack, first aid fit, sunscreen, a fire starter, and matches. All of these items are great to have in case of an emergency.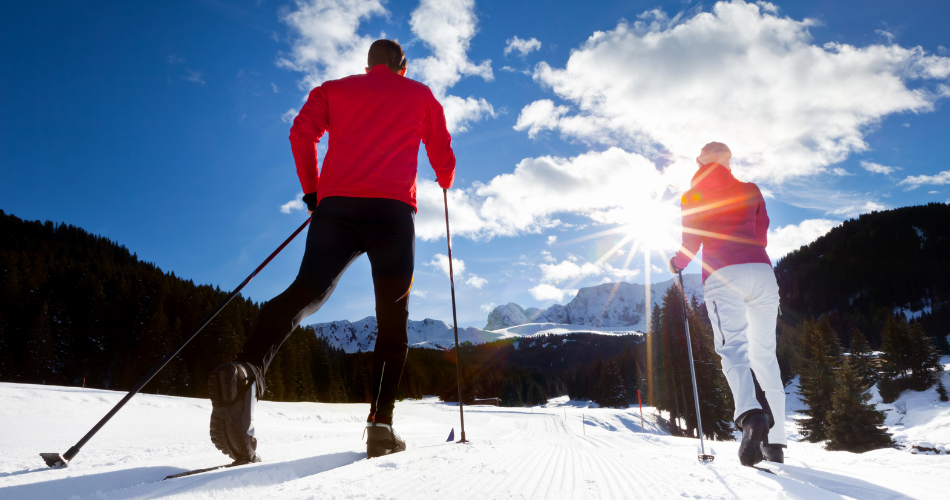 Now that you know the gear you need for cross country skiing, you should be ready to get out there. Cross country skiing offers a great way to explore the outdoors in the cold winter months and can be a relaxing or rigorous outdoor activity depending on what you want to do. If you're still not sure what you need, you can always stop by Ski Shack, where we can help get you set up for your next adventure.
Whether you're a beginner or a seasoned expert, the Ski Shack has all the outdoor gear, apparel and accessories you need to stay warm, dry and safe on the slopes.