The Flood Aero is the perfect combination of performance, style, and price. This board comes in at a great price point for the number of innovative features it has and accessories that can be added to it. If you're thinking about buying this innovative board, but want to learn more first, then this is the perfect article for you. We're going to give you an in-depth look at everything you need to know about this board before you buy it.
Intended use:

The Flood Aero is a fantastic board for an intermediate paddler with performance in mind. In addition to flat water paddling on lakes and rivers, it is also great for light ocean paddling. This board is also great for paddlers looking to do other activities like SUP Yoga or even fishing, thanks to its' BVA Foam Deck Pad and rac compatibility. If you're thinking about bringing your little one or even furry friend on board, it is also perfect for that.
Specs:

This board is 11' long and 32" wide, which helps add to its stability. Other factors that add to its stability are the entry rocker and thick rails. The board is a bit heavier, coming in at about 28 lbs. It comes in at that weight range because it is made with Bote's durable AeroBOTE Technology, which makes the boat very durable, so you don't have to worry about scratches or dings. When all packed up in the travel bag, it weighs around 42 lbs. For those wanting to take their little one or furry friend out on the water with them, the weight capacity of the board is 275 lbs - Bote recommends upgrading to a higher capacity board if the rider and passengers' weight are within 50 lbs of the board's capacity.
Features:

The Flood Aero comes jam-packed with a number of amazing features and compatible accessories that can be added to it. This board has plenty of grab handles for easy transport to and from the water. It also features D-ring attachment points for accessories like a cooler. Plus, it even has MAGNEPOD™ to keep a number of MAGNEPOD™ compatible items like tumblers to a speaker.
Storage:

When it comes to storage, the Flood has plenty! With front and rear bungees storing away any extra gear you want to bring with you is a breeze. Another super awesome storage feature this board has is a side-mounted velcro paddle holder. This paddle holder is perfect for when you want to do some yoga or catch some fish while on your board.
Included Accessories

The Flood Aero comes with:
3-piece Adjustable Paddle
Removable Center Fin
Repair Kit,
Hand Pump,
Pair of Slide-in Rac Receivers,
Travel Bag.
The 3-piece adjustable paddle is light, extremely durable, and super easy to set up to use. The removable center fin helps you track in the water and is easy to place and remove as needed. The repair kit is nice to have just in case of a ding, but as we said earlier, there's no need to worry, thanks to the durable AeroBOTE Technology. When it comes to the hand pump, we recommend buying an electric pump since you can get out on the water much faster. The slide-in rac receivers are super convenient as they can be paired with a number of racs from Bote. Finally, the board comes with a travel bag that can carry everything you need to get out on the water and is even great for checking on a flight.
Compatible Accessories: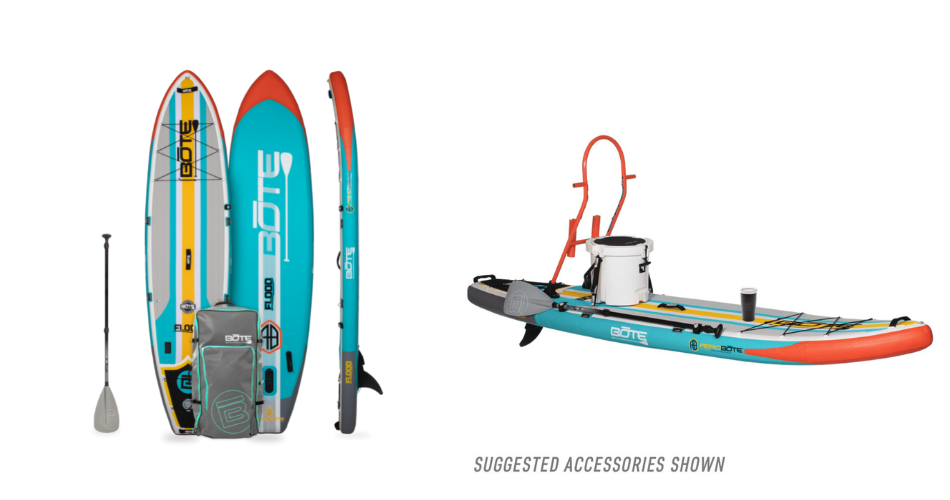 The Flood is also compatible with a number of amazing and innovative accessories from Bote. Compatible accessories include the Aero SUP Paddle Seat, Tackle Rac, Travelink™, Bucket Rac, Side Bite Fin, and Wheel Rac. The Aero SUP Paddle Seat is perfect for transforming the Flood into a sit-down paddle vessel. Turn your board into a fishing machine with the Tackle Rac. Carrying your board can be even easier with the Travelink™ system, which adds an adjustable carry strap. The Bucket Rac is great for those wanting to add a KULA or bucket with bait to their board. This rac also has space to hold your rods! The Side Bite Fins are molded into the hull for better tracking. And for even easier transport, this board is top mount compatible with the Wheel Rac.
Now that you know more about the Flood Aero, you can decide whether or not this is the right board for you. If you still have some questions or would like to see the board in person, you can stop by Ski Shack, where our team is ready to help. If you do decide this is the right board for you and live near our shop, we offer local delivery to certain areas so you can get out on the water faster! And once you do have your board, you can join us for SUP Yoga or some of our other paddle events.