The Jackson Kayak Bite Rec is the perfect combination of innovative design, comfort, and versatility for recreational paddlers. In our Best Recreational Kayaks for 2022, we named the Bite Rec "Best Overall" for a number of reasons. We're going to give you an in-depth look at why we think that this boat is the best in our book.

Jackson Kayak is American-made by paddlers for paddlers

Jackson Kayak was founded in 2003 by whitewater paddlers Tony Lunt, Eric Jackson, and David Knight in Sparta, Tennessee. The foundations of this brand were built by enthusiasts who believed in core values like inclusivity, community, and accessibility. By 2010 the company expanded into creating fishing kayaks as well as other products. Jackson Kayak's passion, dedication to paddling and innovative designs are what set them apart from other kayak brands on the market and are why we carry them at Ski Shack.
Intended use

The Bite Rec is a great boat for the recreational paddler looking for a blend of innovative design, comfort, and versatility. This boat is at home on several different waterways, which speaks to its amazing versatility. Whether you hit the water on small lakes, rivers, ponds, streams, or even inshore saltwater, this boat is ready.
Specifications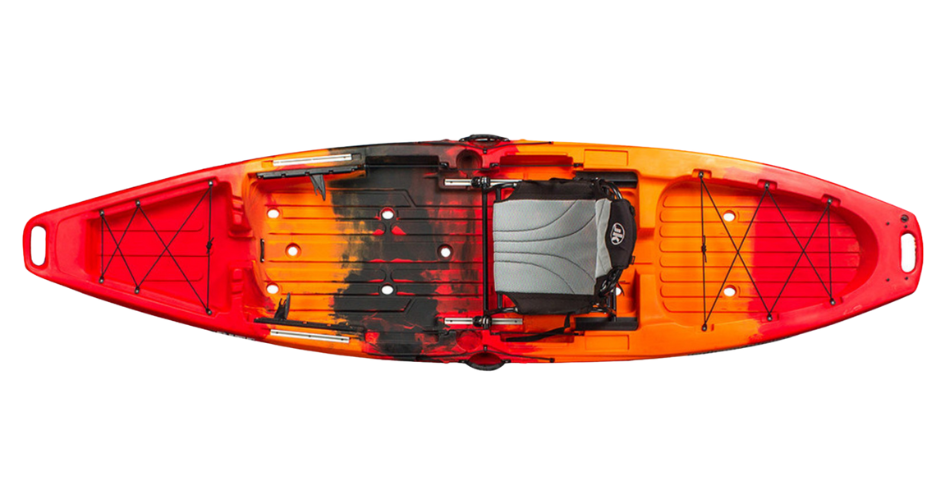 The Bite Rec is 11' 6" long and 35" wide. This boat may be wide, but it still has some great maneuverability. When it comes to weight, this kayak is 74 lbs and has molded-in handles to make transport easier. The weight capacity on this boat is 400 lbs, so there's plenty of room to bring some extra gear with you out on the water.
Features

The Bite Rec has a number of amazing and innovative features to make your time out on the water more enjoyable. This boat features an open-concept deck which gives paddlers one of Jackson's roomiest platforms. The open-concept deck is perfect for standing up to stretch or even shooting some pretty cool photos. This kayak also has a gear track which is perfect for mounting everything from camera accessories to extra cupholders. The Bite Rec features the same hull as the Jackson Bite Angler. The main difference between the two is that the Angler has flush mount rod holders while the Rec does not.
Storage

The Bite Rec has plenty of storage for the paddler that loves to bring some extra gear with them. This boat has storage fore and aft that is combined with Jackson's updated bungee attachment system, which helps prevent water from seeping into the hull. There are also four recessed areas on both sides that are a great way to secure and store small boxes.
Accessories

When it comes to accessories, the Bite Rec has one big one. This boat has a Comfort seat, which offers the perfect blend of comfort, breathability, and drainage. And feeling comfortable means more time out on the water. It also has a stand assist strap which can help to get you in and out of a standing position like a pro. One last accessory that this boat has that we adore is a cup holder! The cup holder is the perfect way to keep your drink or even sunscreen in one spot.
Now that you know more about the Jackson Kayak Bite Rec, you can decide whether or not this is the perfect boat for you! If you have any questions about this boat or just want to see it in person, stop by Ski Shack, and our gear experts will be ready to help!