Posted on
By Ski Shack
Posted in Clothing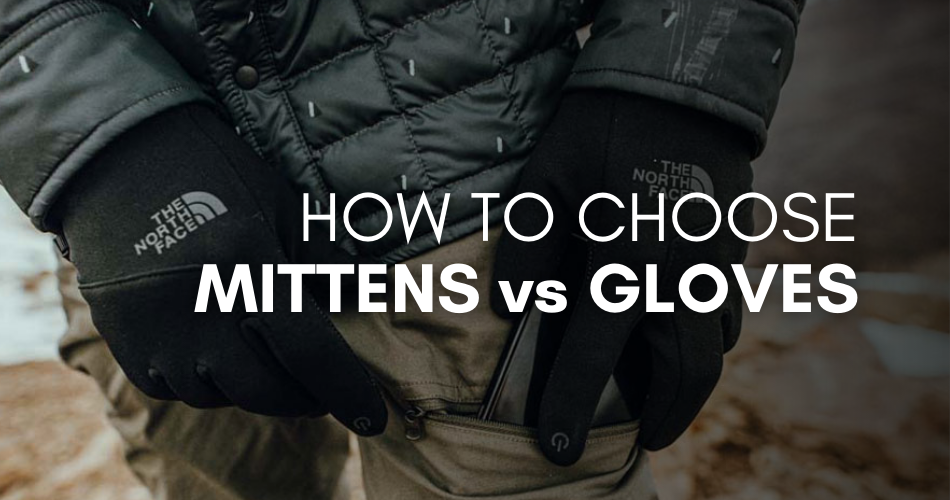 Picking the right pair of gloves or mittens can make or break your day on the mountain since they are such an important accessory for skiing and snowboarding. Choosing the right pair for you may seem easy, but there are a lot of factors that go into a glove or mitt. Our guide will help break down everything that you need to know so that you can pick the right option for you.
Types of Winter Gloves
Let's first look at the types. There are mittens, gloves, and lobsters.
Mittens are warmer than the others because your fingers can share warmth. Plus, they have less surface area for that heat to escape. A downside to wearing mittens is that you do have less dexterity compared to gloves.
Gloves offer the best dexterity. When it comes to handling gear, adjusting buckles, or zipping zippers, gloves can perform all of these actions with ease. If you're looking for a combination of the two, the lobster, also known as a trigger mitt or 3-finger glove, may be a great option for you.
Lobsters are a blend of a glove and mitt that group your index and middle fingers together as well as your ring and pinky fingers together. The lobster offers comfort, warmth, and dexterity, so you can do everything you need to with them on.
Over-the-Cuff vs Under-the-Cuff
Gloves and mittens can have different cuff lengths making how they fit different. The two most common types are over the cuff and under the cuff.
The over-the-cuff style has a longer length and extends over the sleeve of your jacket. This offers more protection from the snow that may try to get in.
The under-the-cuff style has a shorter length that normally ends at the base of your wrist. This type of cuff offers better wrist mobility and works best when the jacket you're wearing has adjustable velcro tabs.
Insulated Snow Gloves & Mittens
Picking a glove or mitt with the proper amount of insulation to keep your hands warm is key. There are two common types of insulation down and synthetic.
Down insulation is breathable, light, long-lasting, and easy to compress. One downside to this insulation type is that it loses its ability to insulate when it gets wet. When this type of insulation is used in gloves, it normally has a waterproof shell to keep it dry. We recommend using this type of insulation in cold and dry climates. Also, this type is normally more expensive than synthetic, but it lasts longer than synthetic.
Synthetic insulation is less expensive, insulates when wet, and even dries faster. Some drawbacks to this type of insulation are that it doesn't offer as much warmth, and its insulating power is reduced each time it gets compressed. This type of insulation is a great choice for those skiing or snowboarding in damper climates.
Waterproof Winter Gloves

Waterproofing is another important factor to think about when picking out gloves or mittens. Most gloves or mittens have a waterproof and breathable barrier to help prevent rain or snow from getting in while letting water vapor from sweat out. That barrier can be a membrane that has been laminated to the fabric, a coating that has been added to the fabric, or an insert between the outer shell and insulation. A common type of technology used is Gore-Tex® which delivers a high level of waterproofing and breathability.
Glove & Mitten Liners
Liners can add another layer that increases warmth and comfort. Material can vary depending on the brand and manufacturer, but some examples are made from fleece, wool or silk. Some gloves even come with liners and are great to slip on your drive up to the mountain or under your gloves for extra cold days.
Key Features to Consider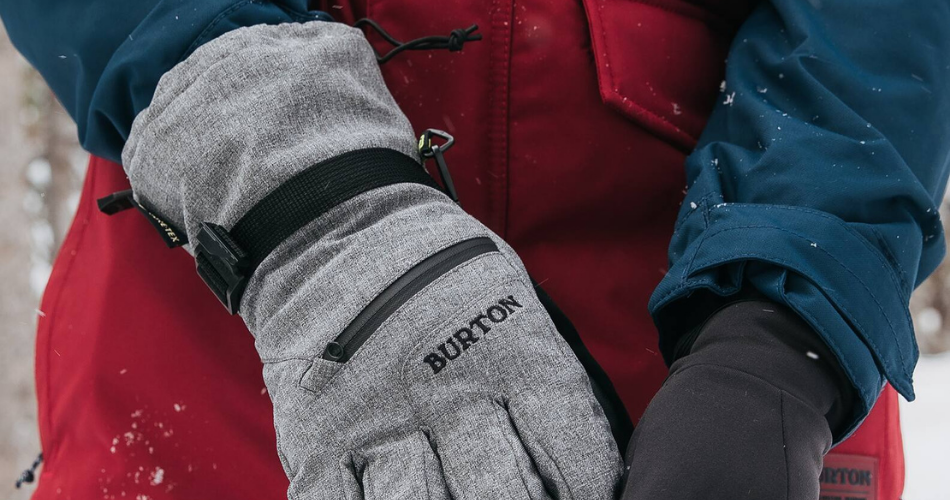 Let's talk about some features that can add comfort and convenience to your next adventure on the mountain.
Taking off your gloves or mitts to check your phone is a thing of the past with touch-screen compatibility. A lot of manufacturers are making gloves and mitts with touch-screen compatible fingers and palms. This technology is usually found in lightweight to mid-weight gloves that feature enough mobility for you to use your phone.
Leather palms deliver better grip and are more durable than synthetic palms.
Zippered pockets can normally be found on the back of the hand. These pockets can be used to keep you warm by adding a hand warmer, or they can typically be used as a vent to cool you off on warmer days.
That cold weather may cause your nose to run, so some gloves or mitts have a nose wipe on the thumb. This wipe is made of soft material and is definitely easier and more convenient than trying to find a tissue.
One last feature is wrist cords or leashes. Wrist cords or leashes help keep your gloves and mitts to your wrists, so you don't drop and lose them.
Choosing the right pair of gloves or mittens to keep your hands warm on the mountain is so important and can make or break your day. That's why you should do some research or talk to someone knowledgeable on the subject. If you're having trouble with your research, you can stop by Ski Shack, where our knowledgeable staff can help your find the right glove or mitten for you so that you can have fun on the mountain.
Whether you're a beginner or a seasoned expert, Ski Shack has all the outdoor gear, apparel and accessories you need to stay warm, dry and safe on the slopes.