Picking a pair of ski boots that fit correctly can be confusing. Properly fitting ski boots are one of the most important pieces of gear for a skier. They can really make or break a whole day or even season if they don't fit properly. So we're here to help break down what you need to know when picking ski boots.
There are basically three main numbers that you should be aware of when it comes to ski boots: Mondopoint size, last width and flex rating.
Mondopoint Scale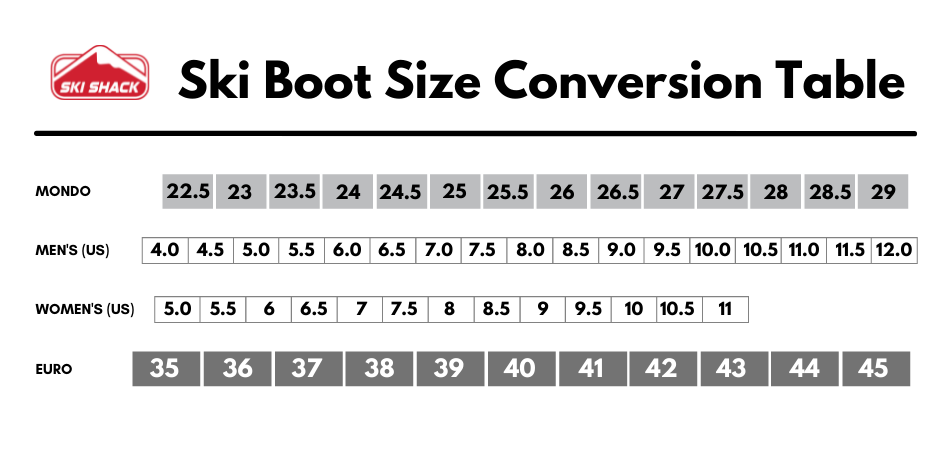 Ski boots are measured using the mondopoint scale, a universal international measuring system. Mondopoint is calculated by measuring your foot in centimeters from your heel to your longest toe. An easy way of measuring is to stand on top of a sheet of paper with your heel against the wall, then mark where your longest toe is. It is important to measure both feet because one foot may be smaller than the other. That being said, your ski boot can get bigger, but not smaller, so you should go off the smaller-sized foot for picking a pair.
How important is the last width of a ski boot?
When it comes to sizing, you should also be thinking about last or width. The last of a boot is the width of the forefoot measured slightly diagonal across the metatarsal heads. There is a narrow last, which is 97-98 mm, an average last which is about 100 mm, and a wide last, which is 102-106mm. Another factor that goes with forefoot width a lot of times is volume. When boots have a narrow forefoot, they most likely have less volume through the midfoot and heel. Wider forefoots tend to have a roomier fit in the rest of the boot.
What is a ski boot flex?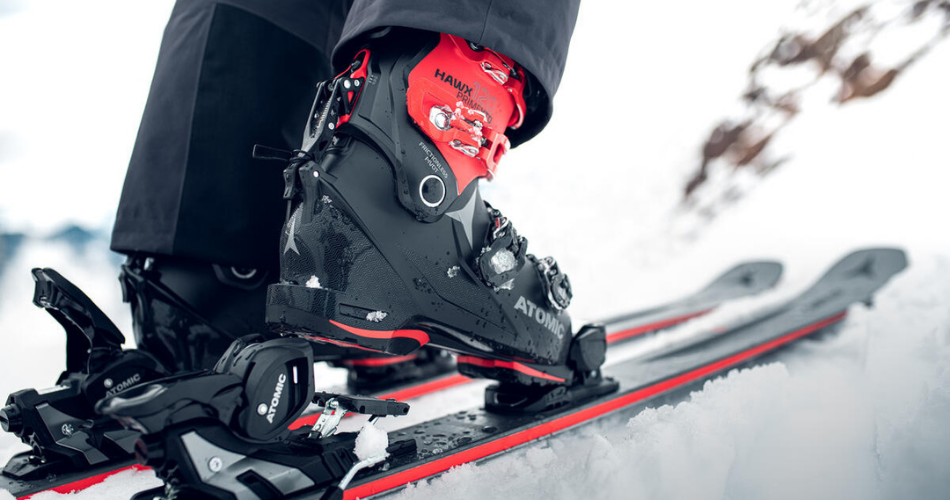 Another factor that comes into play when picking ski boots is flex. The higher the flex, the stiffer the boot, and that means more power transfer. Flex ranges from about 50 to 130 for normal skiers but goes up to about 150 for racers. It is also important to know that flex of 100 on one boot may be different than the same flex on another. Flex for beginner to intermediate skiers can range from about 65-85, intermediate to advanced is about 90 to 100, and advanced to expert is about 110-130.
How should your ski boots fit?
They should have a snug fit that doesn't cause pain or cut off circulation. You should feel a small or moderate amount of pressure when the boot is buckled and your leg is in an upright position; this indicates that the boot will be the right size after breaking it in. All ski boots will fit looser after a few times skiing. 
You should also think about cuff shape, which should match the size and shape of your calf. This factor can be a big consideration for women and for those with larger calves. If the upper buckles are super tight out of the box a lot of times, the upper buckle ladders can be moved to different positions. Most manufacturers now offer specific fits for women, which are created to fit larger and lower calves better.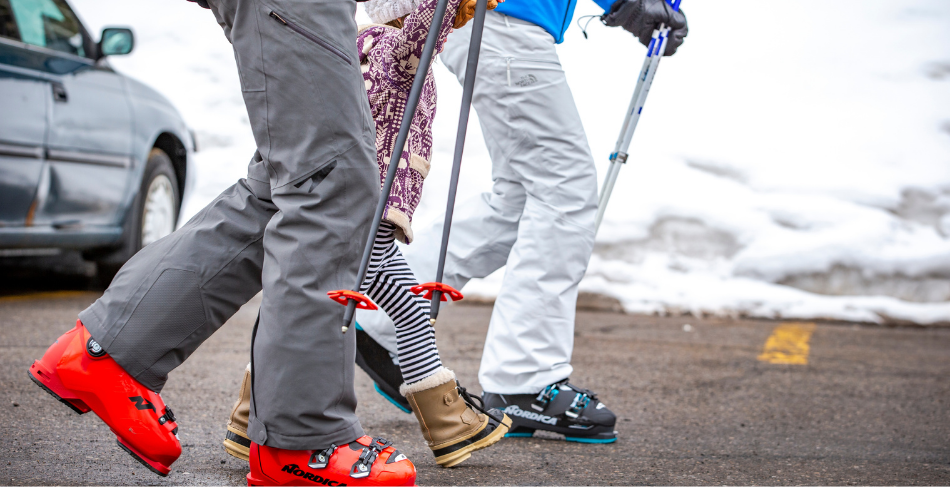 Hopefully, now you have a better understanding of what you should be looking for when picking out ski boots. Remember, ski boots do NOT have to hurt!  From Masterfit certified boot fitters to a full-service workshop, the Ski Shack offers complete boot fitting services to ensure maximum performance and comfort on the slopes. 
Whether you're a beginner or a seasoned expert, Ski Shack has all the outdoor gear, apparel and accessories you need to stay warm, dry and safe on the slopes.