If you're looking for a fun and inexpensive winter activity, snowshoeing may be perfect for you! Snowshoeing began as an essential mode of winter transportation and has evolved into a fun way to spend time outside during the winter. We're here to help you learn everything you need to know before heading out for some winter fun.
Benefits to Snowshoeing
There are several benefits to snowshoeing that make it even more worthwhile to do. First off, it's a great low-impact aerobic winter exercise that can help you stay in shape during the colder months. It's also beginner-friendly and only requires a few basic techniques. This activity is a great social activity because people of different ages and skills levels can all enjoy it. Snowshoeing is also a very affordable activity. Your required gear includes snowshoes and the appropriate attire. Poles are also recommended but not required.
What type of terrain?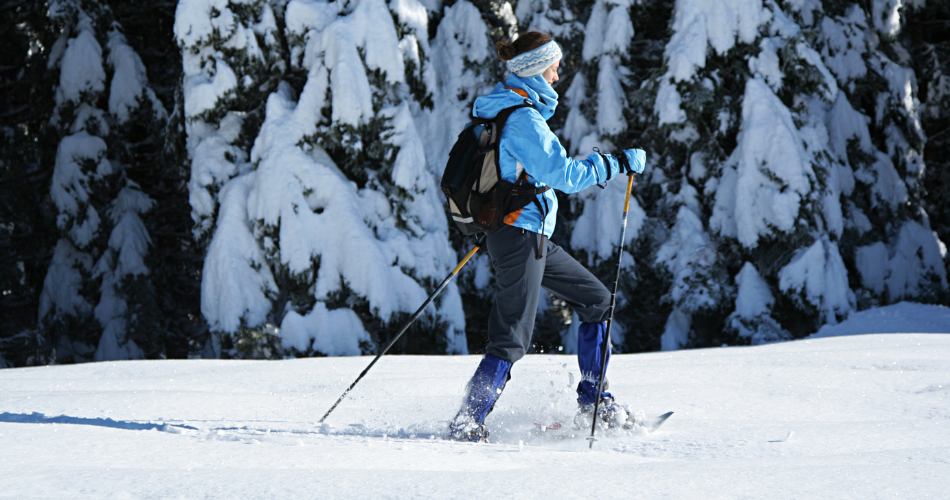 A great question to ask yourself when picking out a pair of snowshoes is what type of terrain will you be on? This is a great question because it can help determine the right pair of snowshoes for you. There are two main types of materials that snowshoes are made of. These materials are composite and aluminum-frame.
Composite snowshoes have a hard decking material that also forms to the outer frame. This type of material is great for recreational use and light hiking.
Aluminum-frame snowshoes are light, strong, and usually feature supportive decking material that is attached to the frame. That supportive material can be anything from plastic to synthetic rubber. This type of material is durable and can stand up against backcountry treks.
Types of Snowshoes
There are also three types of snowshoes: flat, rolling, and mountain terrain.
Flat terrain shoes are great for beginners or casual users because they have a simple binding system, modest traction features, and are usually less expensive.
Rolling terrain shoes are good for flat to moderately sloped terrain but not steep or icy conditions. These shoes have a sturdy binding system, moderately aggressive crampons, and have a moderate price.
Mountain shoes are perfect for steep/icy terrain. These shoes have aggressive crampons, a sophisticated binding system, heel lift in most styles, and are normally higher priced.
Snowshoe Features
Let's talk about those features in a little more detail.
Toe or instep crampons can be found on the underside of bindings, so they pivot and dig with you as you climb. These are the primary source of traction in shoes.
Heel crampons are located on the underside of the decking and also add traction.
Side rails or traction bars deliver lateral stability and reduce side-slipping.
Braking bars help prevent backsliding and are under composite deck shoes.
Heel lifts, also known as climbing bars, are wire bails that can be flipped up under your heels to help relieve calf strain and save energy on steep uphill areas. Plus, they can be flipped down when not being used.
Snowshoe Sizing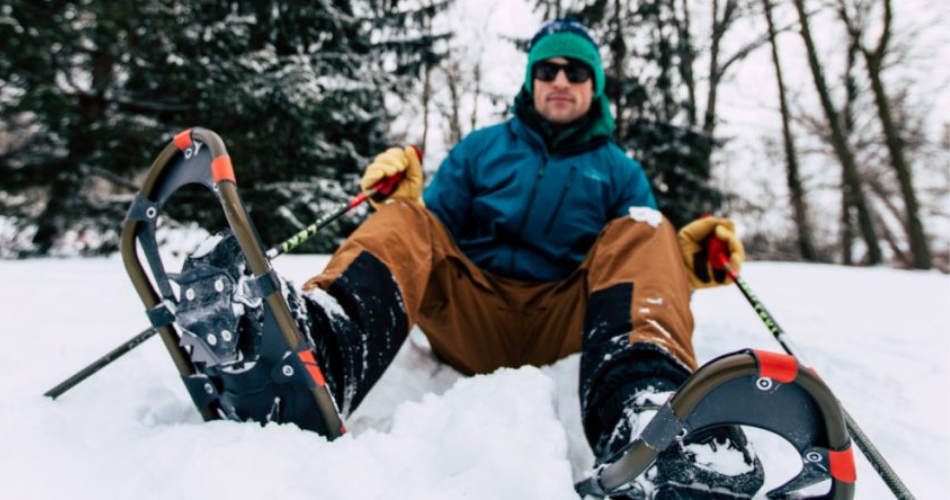 Picking the right size is important and is a big area where the question of what type of terrain you'll be on really comes into play. Snowshoes are meant to help the user "float" on the snow. That being said, hard-packed snow has a more even weight distribution than powder. So if you will be in powder more often, your shoes will need to support more weight.
Snowshoes are sized by the user's weight, along with any gear that they bring. Most shoes will come with a weight recommendation, so it is best to pay attention to that. The weight recommendation tells the user how much weight the snowshoe can carry (user's weight and any gear). If your snowshoeing on 12 inches of powder, the weight recommendation is more flexible since you won't sink in very deep. However, if you're on 3ft of powder, you need to strictly adhere to the weight recommendation, so you don't sink.

When it comes to gender, there isn't a huge difference between men's and women's snowshoes, but not all shoes are unisex. Women's shoes are narrower than men's or unisex models and have a range of smaller sizes. Other than those two things, there are no major differences based on gender.
Gear You'll Need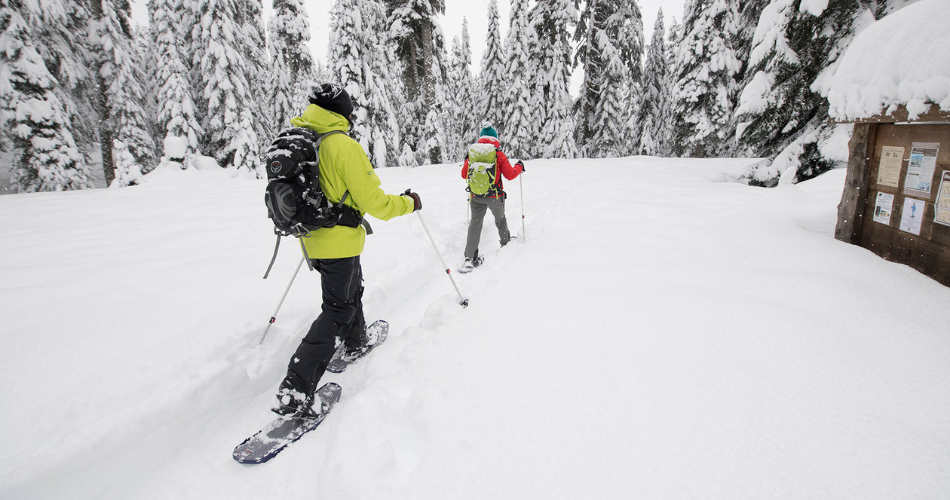 Let's get a little more into the gear you need for when you go. First and foremost you need a pair of snowshoes. You should also have a warm and waterproof pair of boots to keep your feet warm and comfortable while out on the hike.
Next, we recommended adjustable poles. Poles help you maintain your balance, especially on inclines and declines. Another thing poles do is provide support to help distribute your weight which protects your joints and muscles from injury.
Another thing you need is a pair of gaiters. Gaiters help keep snow out of your boots and snowshoes. These are great if you plan to go off-trail onto some deep snow. Some other items to bring include a polarized pair of sunglasses, natural sunscreen and a snack. Don't forget to bring water and stay hydrated!

Snowshoeing is a fun, affordable winter activity that people of different ages and skill levels can do. It's also a great way to get outside during the winter months and offers a great way to stay in shape too. If you need help with picking a pair of snowshoes or any gear for snowshoeing, you can stop by Ski Shack, where our friendly staff can get you ready for a fun trip in the snow.
Whether you're a beginner or a seasoned expert, Ski Shack has all the outdoor gear, apparel and accessories you need to stay warm, dry and safe on the slopes.