Standup Paddle boarding, or SUP, has been growing in popularity throughout the country over the last few years. This sport is a low-impact, full-body workout that is easy to learn and perfect for any age or skill level. Paddle Boards are perfect for a variety of positions and activities like yoga and fishing. When it comes to buying a paddle board, it may be hard to determine which model is right for you. But don't worry, we're here to help! We're going to break down everything you need to know when buying a Bote SUP.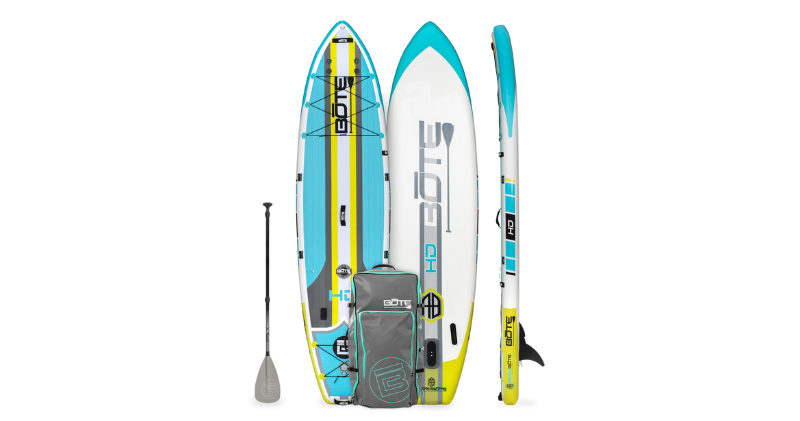 The HD Aero is a super versatile board ready for any adventure. This super stable board is 11' 6" long and 34" wide and comes in at about 30 lbs. Its 315 lbs weight capacity makes it perfect for paddlers looking for a stable SUP for themselves, their gear and perhaps even a passenger. The HD features all the bells and whistles including front and rear bungees for more storage space, several grab handles, MAGNEPOD™, cooler tie-down points, rack mounting options, a full BVA foam deck pad, accessory mounting points, and even a paddle sheath. The HD is a great choice for someone looking to do more than just paddle. With rack mounting options and accessory mounting points, it's great for activities like fishing and even yoga. The HD also comes with pair of slide-in rac receivers to add accessories and a removable paddle sheath.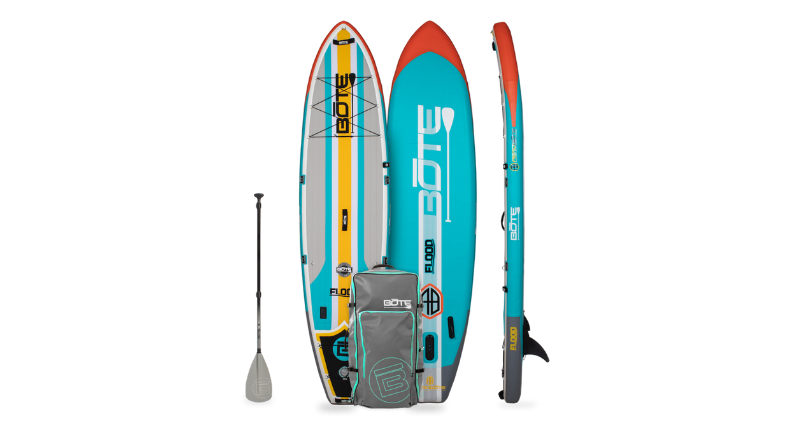 The Bote Flood Aero is the perfect SUP for the intermediate paddler who wants all the performance and features but at an affordable price. The Flood Aero is 11' long, 32" wide, and weighs about 28 lbs. It is also super stable, which makes it great for anyone from beginner to intermediate paddlers. The Flood Aero features plenty of grab handles for easy transport, front and rear bungees for gear, MAGNEPOD™, a paddle strap, cooler tie-down points, and a BVA foam deck pad. In addition to its features, this board is compatible with the tackle rac, the Aero SUP seat, the wheel rac, Travelink™ system, bucket rac, and side bite fin. This board is super durable, so you can paddle in a number of bodies of water without fear of scratches or dings, thanks to AeroULTRA technology. This board is a great choice for the beginner to intermediate looking to get the most out of their board.

The Breeze Aero is super easy to paddle and extremely fun, which makes it perfect for someone looking to get into the sport of paddle boarding. It's also very lightweight at less than 20 lbs which makes it super portable. This board is also very stable at 33" wide. The Breeze features front bungees to store extra gear, 3 grab handles to make transport easy, Travelink™ and inflatable seat attachment points, and a full BVA Foam deck pad for superior comfort. The SUP also features military-grade PVC skin called AeroULTRA technology which makes it super durable, so you don't need to worry about scratches or dings. The Breeze is a great choice for first-time paddlers and it happens to be our best-selling paddle board.
Now that you know everything you need about these Bote SUP models, you can get a better idea of which may be right for you. If you want to make sure that you enjoy paddle boarding before buying one, Ski Shack offers Intro to Paddle Boarding classes at lakes around Northeast PA. These classes are a great way to make sure you love the sport before committing to a purchase. For those who live in our area and purchase a board, we offer local delivery so you can get out on the water faster!