Paddle boarding, or SUP, is a safe, relaxing, gentle activity. It's easy to learn for people of all ages, experience levels, and fitness levels. You CAN do it ... And we'd love to show you how! In this blog article we debunk some common fears around this awesome outdoor activity.
As Northeast PA's only outfitter offering stand-up paddle board sales, rentals and classes, we've heard every concern in the book from people who are anxious about trying stand-up paddle boarding for the first time. And we get it — trying a new sport can be scary!
We're here to share our years of experience to de-bunk a few common fears and myths surrounding stand-up paddle boarding so you can make an informed choice about whether the sport is right for you.
I'll Fall Off!
This is huge — and so understandable. Falling is scary! You feel out of control; You don't know where you'll land. In many adventure sports (rock climbing, skiing, mountain biking, etc.), there's a real risk of injury when you fall — you're going fast, the grades are steep, the ground is hard. Paddle boarding is the polar opposite of all that: you're moving slowly and smoothly. You're gliding over flat, calm water where it's safe to swim. There is minimal risk of falling, and if you do happen to fall in, you'll get wet, not hurt. It's also very easy to get back on.
Still afraid of falling? We get it — the fear is real! And here's why you're actually very unlikely to fall off a paddle board.
You don't have to stand up: It's comfortable and easy to paddle a SUP while sitting or kneeling. Everyone in our introductory paddle boarding classes starts in a seated position, and many sit or kneel for much of the first class.
Unlike a canoe or kayak, paddle boards are not "tippy." A paddle board is essentially a wide, flat floating platform. At 11 feet long and 3 feet wide, our inflatable BOTE paddle boards are virtually impossible to flip over.

I'm Too Old — or — I Have a Medical Condition
Paddle boarding is really low impact — no hard bumps, jolts or fast movements. The sport is easy on your body, which makes it really accessible for people who are older or with health concerns. The movements smooth and fluid, the pace is slow, and there's a low risk of injury. It's a safe and relaxing way to build and maintain muscle tone in your core, arms and legs. And it doesn't require serious muscular strength or cardiovascular fitness to get started.
I'm Not Coordinated Enough 
Here's a secret: If you can sit, kneel or stand on solid ground, you can pilot a paddle board. If you can paddle a kayak or a canoe, you can paddle a paddle board. If your core is wrecked from having babies (been there!), or you're overweight (been there!) or simply out of shape (yes — us too!) you can paddle a paddle board. Start low and slow, seated cross-legged, or with your legs out in front of you. Keep your eyes up, dip your paddle in, and set out to explore the water. Many of the people we work with during our NEPA paddle boarding classes (private sessions and groups) feel ready to stand by the end of their first class; others are happy to sit for the long haul! 
I Have Terrible Balance!
It's true: some people have a better sense of balance than others. Fortunately, balance is a skill you can develop and improve with practice. If you tend to feel off-balance easily, paddle boarding is a really safe, low-risk way to improve your balance (and by association, your overall health and cognition, as shown through extensive research) while having fun and exercising outside. You can start by paddling from a seated position, then rise to a low kneel and go higher as you become more comfortable.
I Don't Have the Equipment
We have the equipment! Most of the people in our beginner paddle board and SUP Yoga classes rent equipment from Ski Shack. If you're heading out for a weekend at the lake, we also rent boards by the day or week so you can try it out if you aren't ready to buy. Or, if you're interested in connecting with other paddlers and SUP newbies, join a class! We'll meet you at the lake with everything you need. Just wear a bathing suit or fast-drying clothing, and don't forget your sunglasses/sunscreen!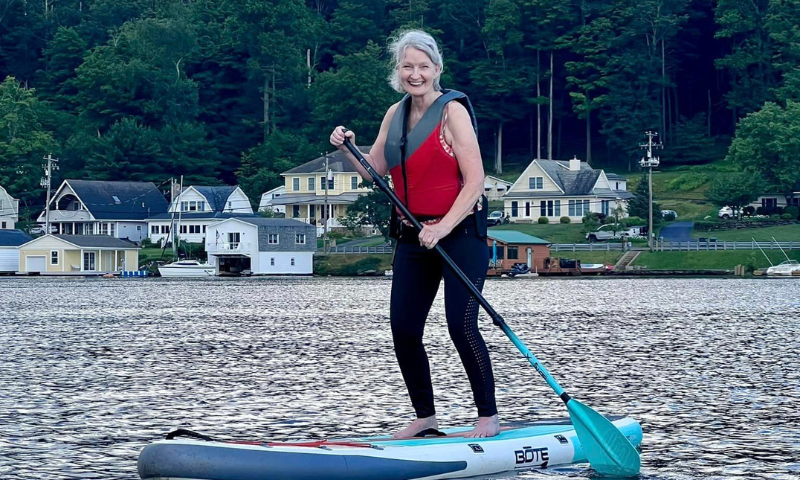 I Don't Have Time for a New Hobby
We're all busy. In fact, Ski Shack owner Melissa Roberts only became serious about paddle boarding after becoming a mom. She lives near Harvey's Lake, and paddle boarding was the most accessible way to get out and exercise in a quick hour. Using an electric pump, our BOTE inflatable paddle boards blow up in about 10 minutes, and they roll up to the size of a large backpack when you're done. So if you live near a swimmable body of water, you can keep your equipment in your car and stop for an impromptu paddle whenever you're near a lake with 30 minutes to spare. 
I Don't Know Where to Paddle
Looking for places to try paddle boarding in Northeast Pennsylvania? Check out our recent blog post sharing our favorite places to paddle in Lackawanna, Luzerne and Wyoming counties. 

Ready to jump in?
Join us for a Ski Shack paddle board class, and we'll guide you through the basics of the sport. We'll also work with you to accommodate any physical limitations or injuries you're working through. It's our goal to help you get out onto the water to move your body, connect with nature, and have fun! That's it — it's really that simple.
Read more: