You heard it here first: Skiing and Snowboarding are expensive! Traveling is also expensive, so it follows that taking a family ski or snowboard vacation can be quite pricey. But you can save a lot if you do your research, book early and plan to take advantage of deals on everything from lodging to lift tickets.
#1 Ski or Snowboard Abroad
If you're open to international travel, you can stretch your pennies by choosing a mountain destination where the exchange rate is good, and local currency is less valuable than the dollar.  
The Canadian Rockies boast some of the finest skiing in North America, and Canada's currency will often buy you an extra 30 cents on the dollar. This can offer serious savings on a typical mountain vacation. 
You can also fly south in the summer for some wallet-friendly turns. Chile and Argentina are both amazing alpine destinations with comparatively low costs of living. If you plan ahead, you can score affordable flights, too.
#2 Rent a Vacation Home
If you're traveling with a large family — or friends — a well-selected vacation rental can offer great per-bed value, especially if you stay for several days. Most mountain towns have condos close to the resorts, so you can walk to the mountain and save on parking. 
Vacation rentals such as Airbnb or Vrbo.com usually include fully-outfitted kitchens, so you can cook meals (and pack lunches!) instead of eating out every meal. Many include free parking (check to see if your rental is near a free resort shuttle), and feature amenities such as a pool, hot tub, game room, etc. To maximize your options and lock in the lowest rates, book well in advance!
#3 Look at Package Deals
Sites such as Snowventures.com and Ski.com offer all-in packages with flights, car rentals, lodging, lift tickets, equipment rentals, and local transportation. If you book well in advance, this can save you lots of money, and it allows you to plan and budget for your big vacation long-term. 
#4 Save on Equipment
If you usually rent ski or snowboard gear, consider renting at a local ski shop instead of at the resort. At Ski Shack, for example, our daily rentals start at $25. On-mountain options can start at $60 or more per day. This is consistent wherever you go, and most in-town shops offer multi-day rentals that save you even more. You'll also save time getting fitted, filling out paperwork, and returning equipment at day's end. 
Also, consider a season rental. Our full-season rentals start at $99, so if your ski trip is more than a few days, it really pays to rent for the season. Then you can keep the gear and use it until April. 
Finally, if you're ready to buy new gear, ask your retailer if they offer price matching, buyer rewards or trade-in programs.
Here at Ski Shack, we're committed to offering value for our customers — if you find any identical item that we're selling (online or in-store) at a lower price elsewhere, we'll match that price — no questions asked. Just let us know!
We also offer five percent back on every purchase, and when you purchase your child's ski or snowboard equipment from Ski Shack, you can bring it back within three years for a 50% credit towards their next package.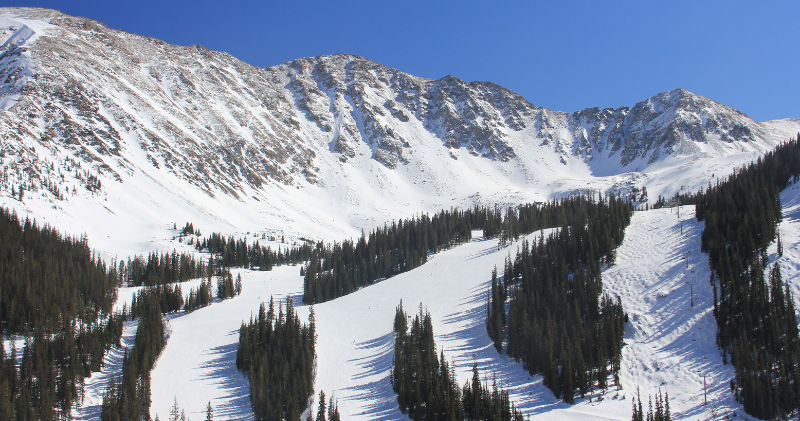 Kids under 5 ski free at Colorado's Arapahoe Basin (picture above), where 3-day tickets cost $259 — equal to one day at nearby Vail Mountain Resort.
#5 Save on Lift Tickets
Many resorts offer cut-rate lift passes for kids, seniors, veterans or students (of any age!). If that's you, check with the resort ticket office and make sure you're taking advantage of the discounts!
#6 Go Where the Kids Ski Free
Young children (5 and under) ski free at many U.S. resorts. See SkiingKids.com for a running (though not exhaustive) list of deals, and always check with your destination resort to see how you can save.
Many states have passport programs that entitle older kids to free/cheap skiing. New York's Ski & Ride Passport offers 3rd and 4th graders tickets at 23 participating resorts; 4th-6th graders can use the Ski Utah Passport for 45 ski days in Utah. Similar deals exist in Colorado, Idaho, and elsewhere.
Here in the Northeast Pennsylvania/Poconos region, kids under 4 or 5 ski free at Montage Mountain, Elk Mountain, Jack Frost/Big Boulder (see FAQ/Specialty tickets), Camelback Resort, Shawnee Mountain (kids under 46") and Big Bear at Masthope Mountain. Children under 5 pay $50 for the season at Blue Mountain Resort. Check the SkiPA family page for additional discounts.
#7 Invest in a Multi-Resort Ski Pass
Multi-mountain passes such as the Epic or Ikon Pass can be a boon if you travel often to ski. These passes also make it easy to budget for lift tickets, as they roll all of your tickets into one all-in, predictable price for the season. 
The Indy Pass — similar to Ikon or Epic, but for smaller, independent resorts, offers access to 120 uncrowded, authentic destinations in North America and Japan. Bonus! Since Ski Shack is an allied independent ski shop, you can save 10% on an Indy Pass when you spend $250 or more at our shop — or at  dozens of other independent shops nationwide.
If you usually buy a season pass to your home mountain, you can sometimes pay to add days at mountains across the country (and world!). Sometimes, you can pre-purchase next year's season pass toward the end of the current season and it'll include free skiing or snowboarding for the rest of this season. 
#8 Take Advantage of Dynamic Lift Ticket Pricing
Many mountains now use dynamic (i.e. demand-based) ticket pricing, which means you can ski for less (and avoid lift lines and crowds!) on days when fewer people go skiing. Consider planning your trip so you can ski midweek, and avoid travel during holiday weeks (Christmas/New Years/MLK Day and Presidents' Week) when prices are highest.
Dynamic pricing also rewards riders who buy tickets online in advance — see if you can get tickets when you book your trip; if not, find out when tickets become available online and purchase as early as you can.
#9 Ski Off the Beaten Path
Daily tickets can exceed $250 per day at big-name resorts like Vail, Aspen, Alta or Killington. There's amazing skiing at nearby resorts for less. In Colorado, mountains such as Loveland, Monarch, Cooper and Arapahoe Basin cost about half the price of a day at a bigger resort, and you can often score three-day tickets for $250 or less.
If you're looking for a really budget experience with serious local flavor, consider spending some time at a community ski hill. In New England, mountains like Vermont's Northeast Slopes and Middlebury Snow Bowl, New Hampshire's Dartmouth Skiway, and many small mountains in Maine offer a seriously laid-back, family-oriented ski experience for as little as $5 per day.
But do your research — many community hills only open on weekends — and only when there's natural snow. And because they're located outside of major resort corridors, you may have to dig a little deeper to find lodging that suits your needs.
In Colorado, mountains such as Eldora and Echo Mountain offer a low-key Rockies ski experience close to Denver, where flights, lodging and restaurants are all cheaper than in resort towns like Aspen or Breckenridge.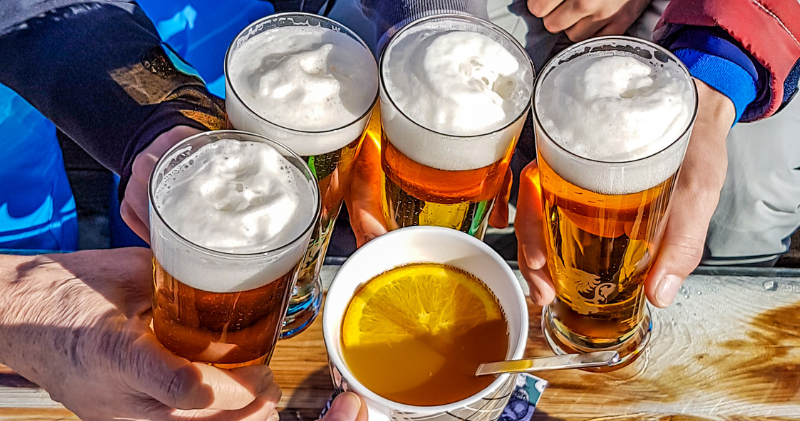 Take advantage of late-afternoon happy hour deals to save on aprés ski food and drinks.
#10 Save on Food & Drink
Two words: Pack Lunch! 

When you're skiing or snowboarding, anything tastes good. If you're pinching pennies, pack lunch instead of paying ski-lodge prices for lunch. For a family of four, doing so can shrink your daily lunch bill from $150 (or more!) to $10-$15.
You can stash your lunch cooler in a locker in base lodge — or carry it on you, if you ski with a daypack. Sandwiches, fruit, cookies and candy are easy to pack, but if you prefer hot lunch, include a thermos of soup, chili, hot chocolate or leftovers. 
Get Happy!

Everyone loves an aprés ski drink. Many resort-town bars offer deals such as beer buckets, two-for-one cocktails/apps, or cheap wings as the lifts stop spinning — and sometimes, as dinner winds down late in the evening. Search "happy hour" on Yelp or TripAdvisor for specific spots; a quick google search will often yield an article or list of several places.
Order Takeout
If you're traveling with kids, eating out isn't always ideal. But in a post-pandemic world, most ski towns have plentiful takeout/delivery options! Takeout can be cheaper than in-house dining, as you save on alcohol and tips.
Read More:
What to Pack for a Ski / Snowboard Trip
Ski Shack's Top Five Ski Bag Essentials
Best Ways to Transport Your Skis to the Mountain
Looking for something else? Based in northeast PA, Ski Shack carries a full line of outdoor gear, clothing and accessories to help everyone in your family stay cozy, dry and safe in the great outdoors this season — no matter your experience or ability level.