Buying your first fishing kayak can be very exciting since it opens up new areas on the water that some larger boats can't get to. This, of course, can also be a very confusing time if you aren't sure of what would be best for you. In this article, we'll be breaking down the questions you should ask yourself before buying a fishing kayak and the differences between models.
Key Questions
Let's start with the questions that you should be asking yourself when buying a fishing kayak.
Are you fishing alone?
Asking this question can help determine if you need to accommodate more people. Kayaks usually come in either single or 2-seater (tandem) options. Some models even have removable seats that can accommodate an extra passenger when needed.
Do you want to paddle or pedal?
Paddling is a great way to exercise while out on the water and is better for swift-moving rivers where you need to be agile. Pedal-drive kayaks are typically better for deeper, calmer water and allow you to be hands-free so that you're always ready to catch that next fish.
How much weight are you hauling?
Thinking about the boat's weight capacity is an important factor. You'll need to think about your own weight plus the amount of gear you'll want to bring out on the water with you.
Do you want to fish while standing?
If you do want to fish while standing, then you will need stability. This means a wider hull which also means a potentially slower boat.
How do you plan to transport the kayak?
Another very important factor is transport since it can be difficult if the kayak is hard to lift or if you don't have enough room for it. So you should make sure you're able to carry the kayak to where you want to fish on your own. You should also make sure you have a way to get it to the water, whether that be on top of your car, in the bed of your trunk, or even in a trailer.
Types of Fishing Kayaks
After answering these questions, you should then take a look at the different types of kayaks and find the one that best meets your needs.
Sit-on-top Kayaks
Featured: Jackson Kayak Bite Angler Fishing Kayak 2022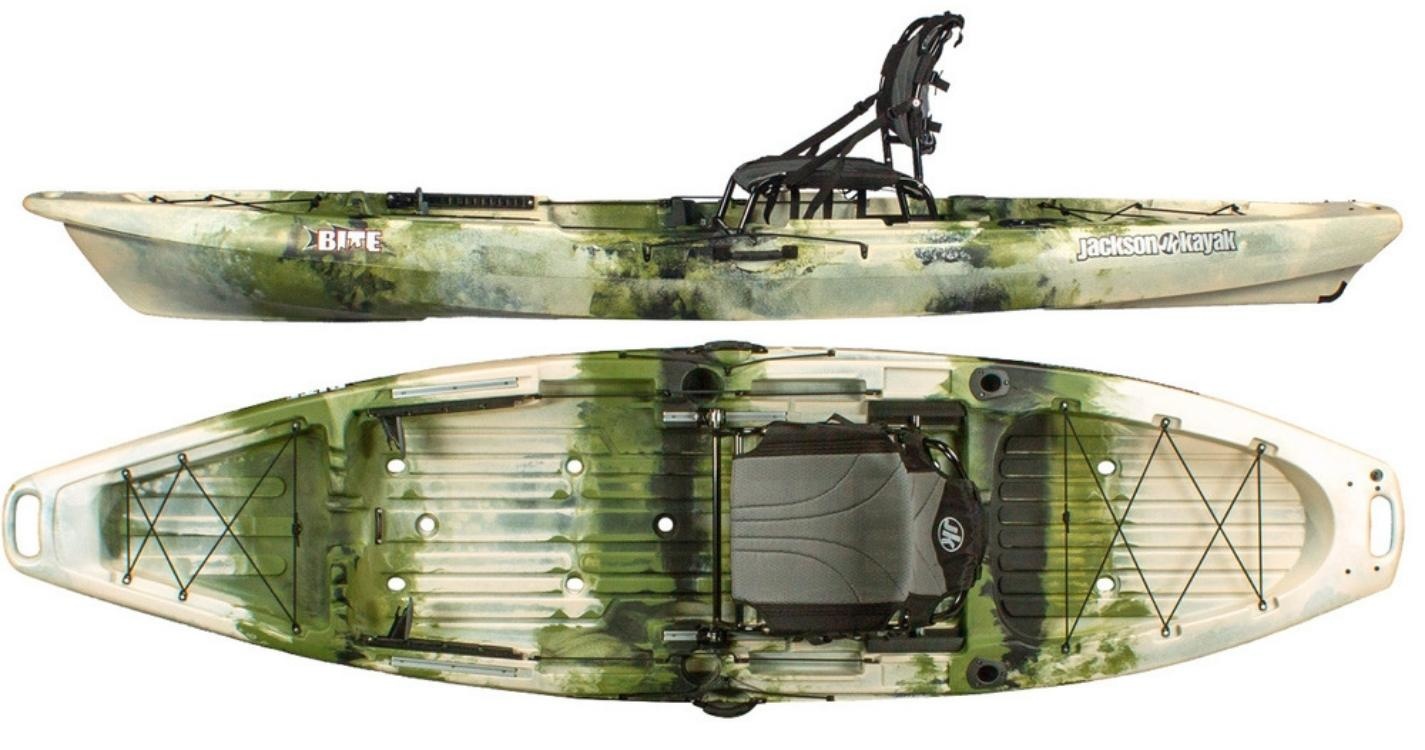 Sit-on-top kayaks are the most popular type when it comes to fishing, thanks to the ease and convenience of getting off and on them. These types of kayaks are also good for oceans or big lakes where there's a chance of falling into the water because they are quick and easy to get back up. They are also generally more stable, and a lot of models allow you to stand up in them. Some downsides to these kayaks are that you'll likely get wet with them, which is not ideal in colder climates unless you're dressed for the weather and that they are typically heavier than other types of kayaks.
Sit-in Kayaks
Featured: Seastream Backwater V2 Kayak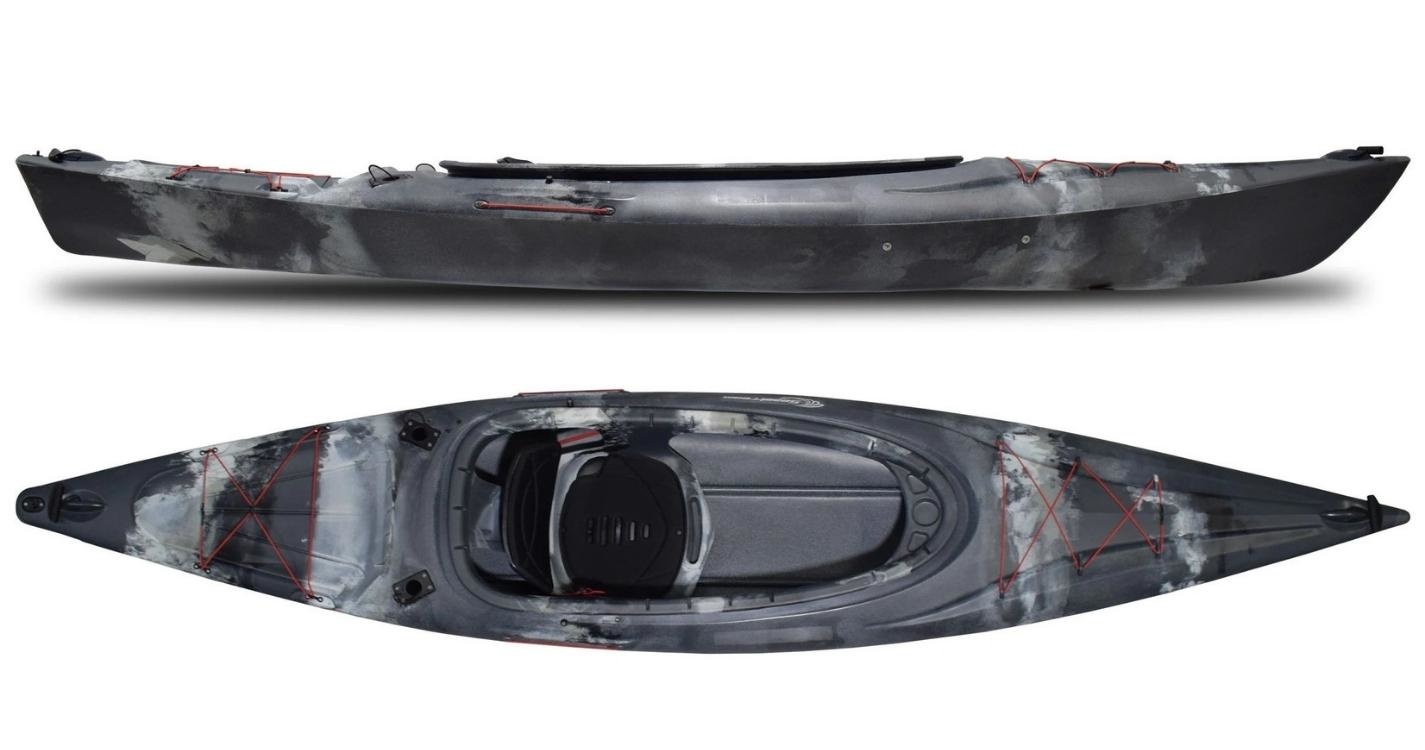 Sit-in kayaks aren't commonly used for fishing but can be. These kayaks keep you safe from the elements and can even help keep you warm in colder weather. They are also more efficient when paddling. The drawbacks of these kayaks are that they have covered gear compartments that can be hard to reach on the water, and your view for sight fishing is limited since you're a lot closer to the water.
Inflatable Kayaks
Featured: Bote LONO Aero 12′6″ Inflatable Kayak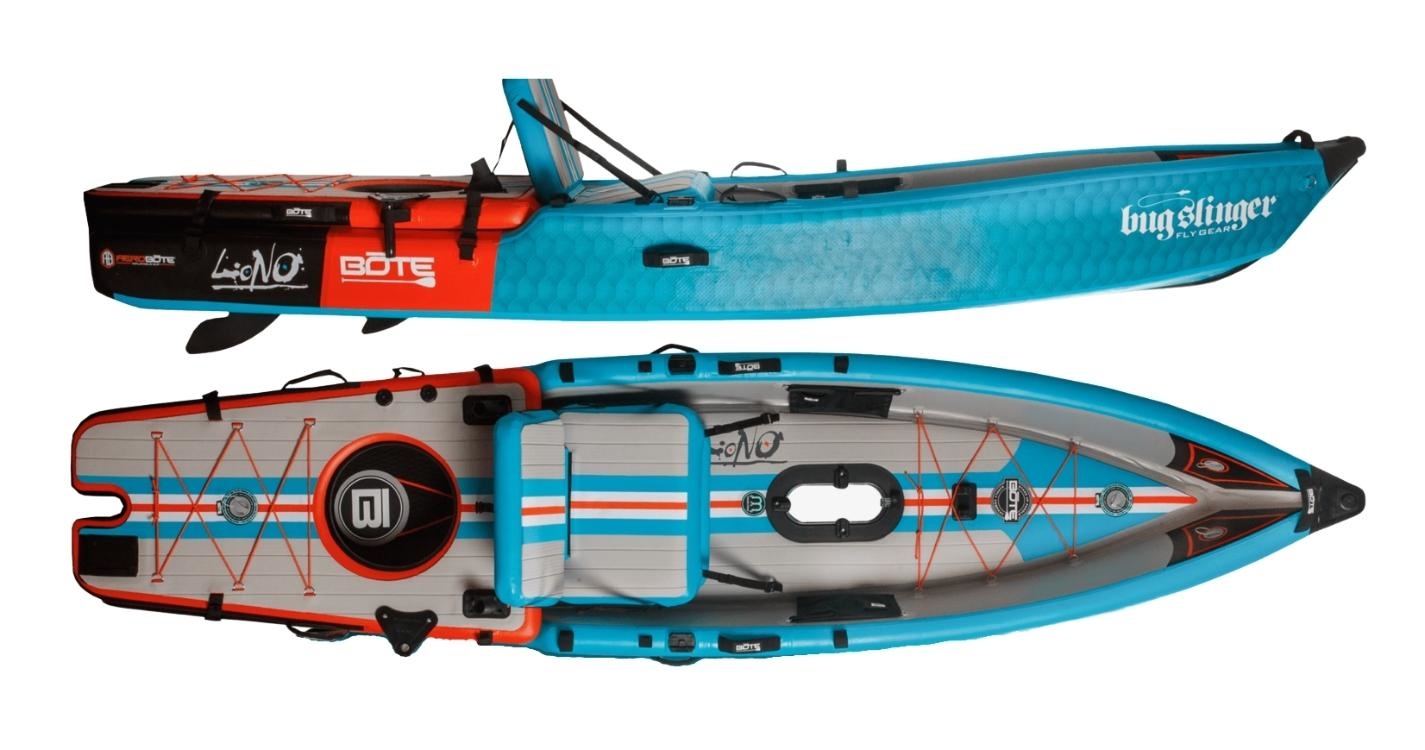 Inflatable kayaks are perfect for those without a lot of storage space since these kayaks can pack down relatively small. Once inflated, these kayaks are lightweight and easy to carry, making them perfect for people with smaller frames. Also, since they deflate, transport is a breeze. The downside of these is that since they are not as rigid, you have to pay special attention to where you launch and land, and some inflatables may not paddle as well or as fast as traditional kayaks.
Comparing Fishing Kayaks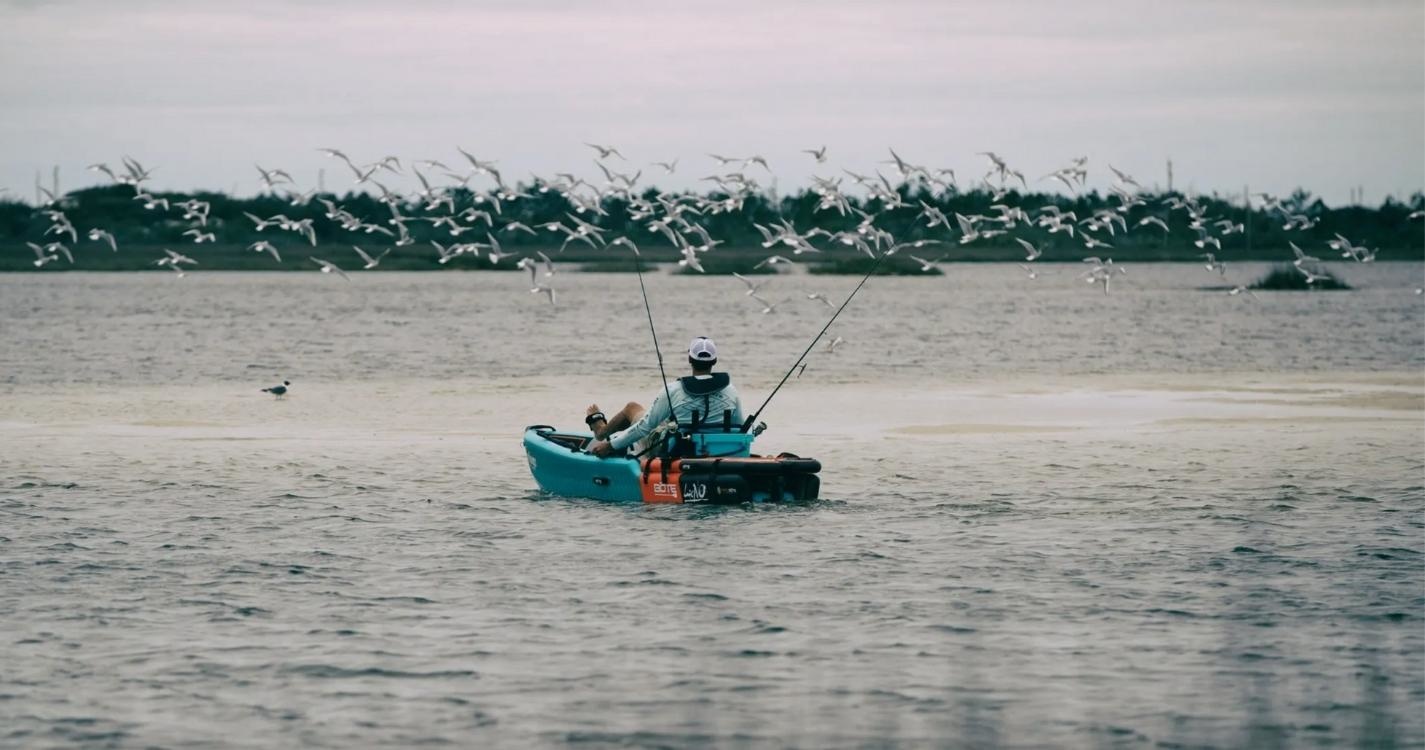 Now that we've talked about the three different types, we can get further into the details of what makes each type unique.
Long vs. Short Kayaks
Long kayaks tend to be faster and are perfect for battling tides or going long distances. Shorter kayaks are more agile and are perfect for faster-moving water where you have to dodge rocks.
Wide vs. Narrow Kayaks
Wider boats are more stable, making them better for standing. So if you're looking for a boat that will allow you to stand to fish and sight fish, a wider boat may be perfect for you. Narrower boats aren't great for fishing while standing, but they can move more quickly.
Paddle vs. Pedal Kayaks
Paddle kayaks are traditionally more affordable and usually feature an easier to use and simple design. These types of kayaks are also lighter, easier to transport, and can easily access shallow waters since there isn't a pedal drive system underneath. Pedal kayaks allow you to move by pedaling, which allows your hands to be free for fishing. This eliminates a big problem when fishing in a kayak which is trying to hold your paddle and fishing rod. Steering is done using a hand-operated rudder, and this type of technology adds to the cost and maintenance of the boat.
Fishing-Specific Kayak Features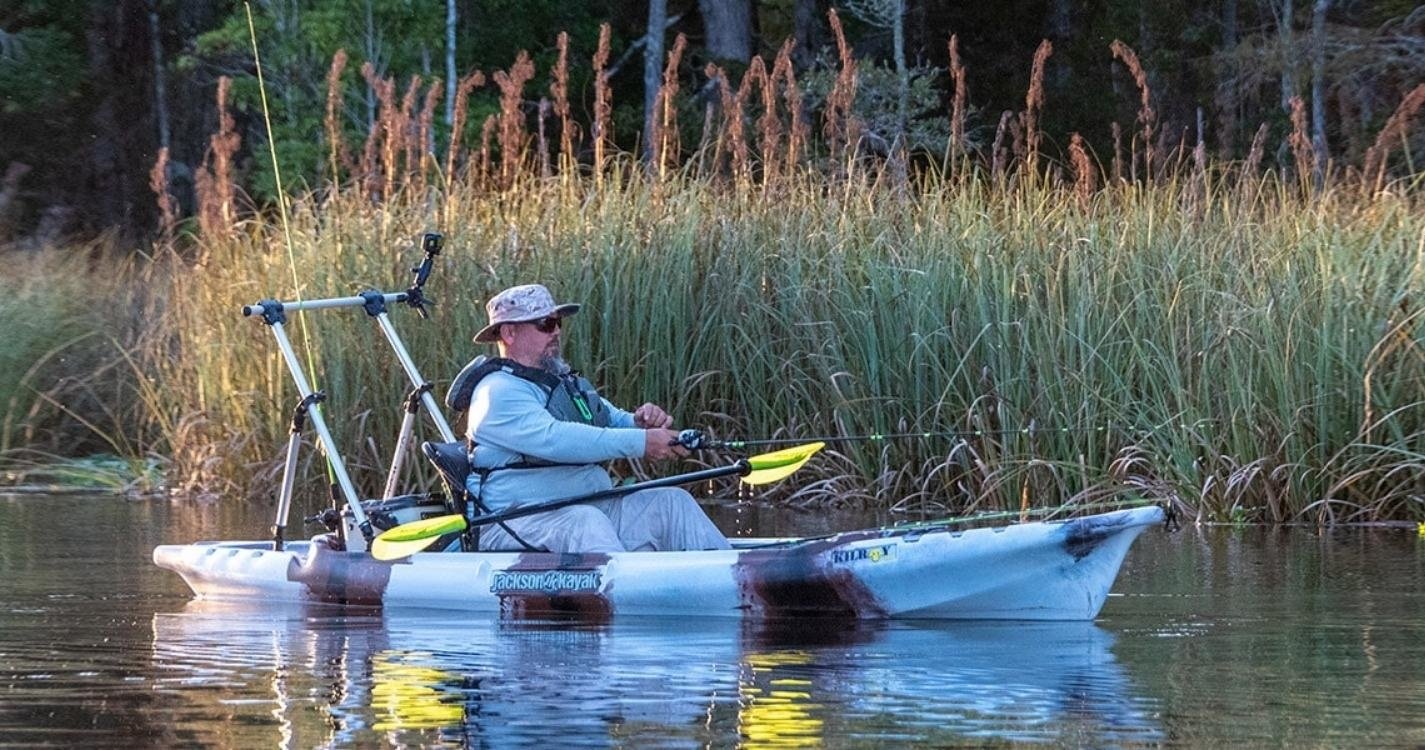 Fishing-specific features include a few different things. Rod holders are a very common feature, and they can be mounted, molded-in or even have grooves on the sides of the boat for your rods to go horizontally. A lot of times, you can even install your own rod holders. A comfortable seat is another important feature. You should make sure that your seat has enough cushion support and that it hits on the back of your leg. Some seats can even be removed or adjusted.
Storage options can be minimalistic or a lot more robust, depending on what you're looking for. Gear tracks allow you to attach accessories like phones and fish finders to your kayak without having to drill any holes. Finally, rudders can help with tracking in wind. The angle can constantly be adjusted, and some rudders can even be installed after the fact.

Picking out your first fishing kayak can be exciting but also confusing if you don't know what you're looking for. Our shop has Northeastern PA's best selection of fishing kayaks, so you can always stop by our shop to find the perfect boat for you. And if you need any help with picking the perfect kayak for you, we can help here at Ski Shack!