With so many types of snowboards out there, it could be a bit overwhelming to pick the perfect one. It's tempting to pick a snowboard solely based on the artwork, but the truth is, the right snowboard for you is one designed for the terrain you prefer. The learning curve on a snowboard is typically pretty fast, so if you're just getting started, you may want to consider buying for where you want to be and aim for a board that will accommodate improving skills.
Here are some of the most important things to consider when shopping for a snowboard: 
a. Snowboard Shapes
b. Snowboard Profiles
c. Snowboard Length
d. Snowboard Width
e. Binding Compatibility 
Snowboard Shapes
Choose the snowboard shape that matches the style of riding you intend to do.
a. Directional boards are designed to be ridden in one direction and are ideal for high-speed carving. Many freeride boards and some all-mountain boards are directional.
b. Twin boards have a symmetrical tip and tail and exhibit no difference in performance whether you ride them forward or backward (aka switch). This makes them a popular freestyle choice for park and pipe riding.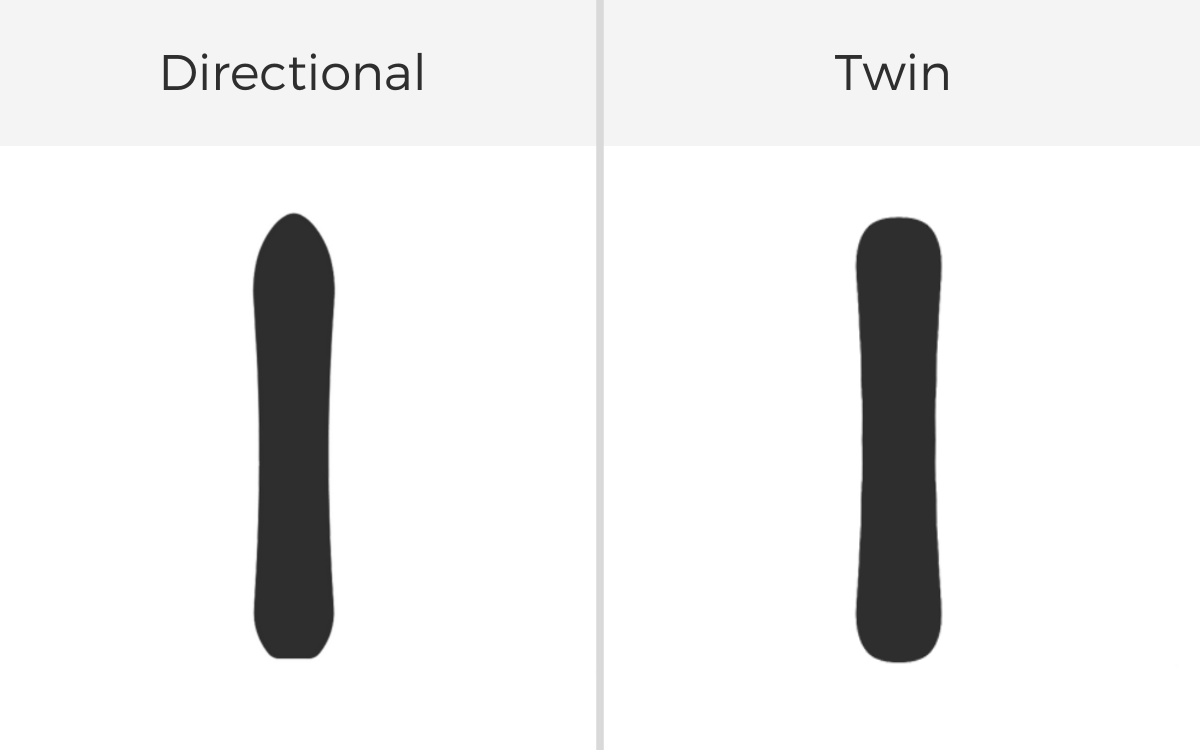 Snowboard Profiles
You can usually tell a snowboard's profile by setting it down on the ground and seeing how it lays. If the middle rises off the snow, it's got a camber profile. If the middle stays flat, it's usually either a rocker or flat board. If you're planning to ride fast on groomed runs, then choose a cambered board. But for riding soft snow you'll probably want a flat, rocker or some combination of them both.

a. Camber - Intermediate/Experienced, speed-oriented riders favor cambered boards.
b. Flat - Allows quick turns and maximum feel while increasing float.
c. Rocker - Smooth ride and tends to have a surfy feel that's easier to maneuver, making them popular among novice riders.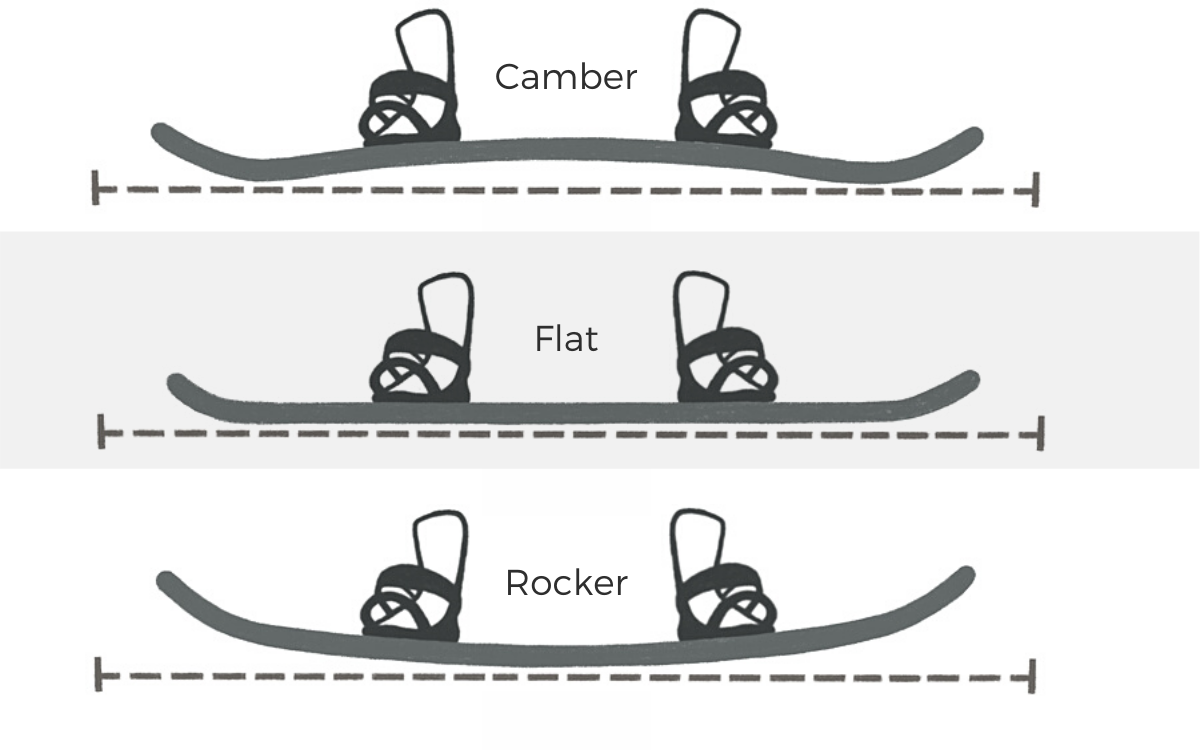 Board Length
As a general rule, if you stand a snowboard on its tail, the tip of the board should reach somewhere between your chin and nose. You can use the snowboard sizing charts below to help guide your decision but don't worry if you have a board that is a little longer or shorter than the recommendations below, as many different factors go into choosing the ideal board.
General Tips:
a. Choose a snowboard with a standing height between your chin and nose
b. Go with a shorter snowboard if want to go slower (i.e. beginners)
c. Go with a heavier snowboard if want more speed (i.e. intermediate/experts)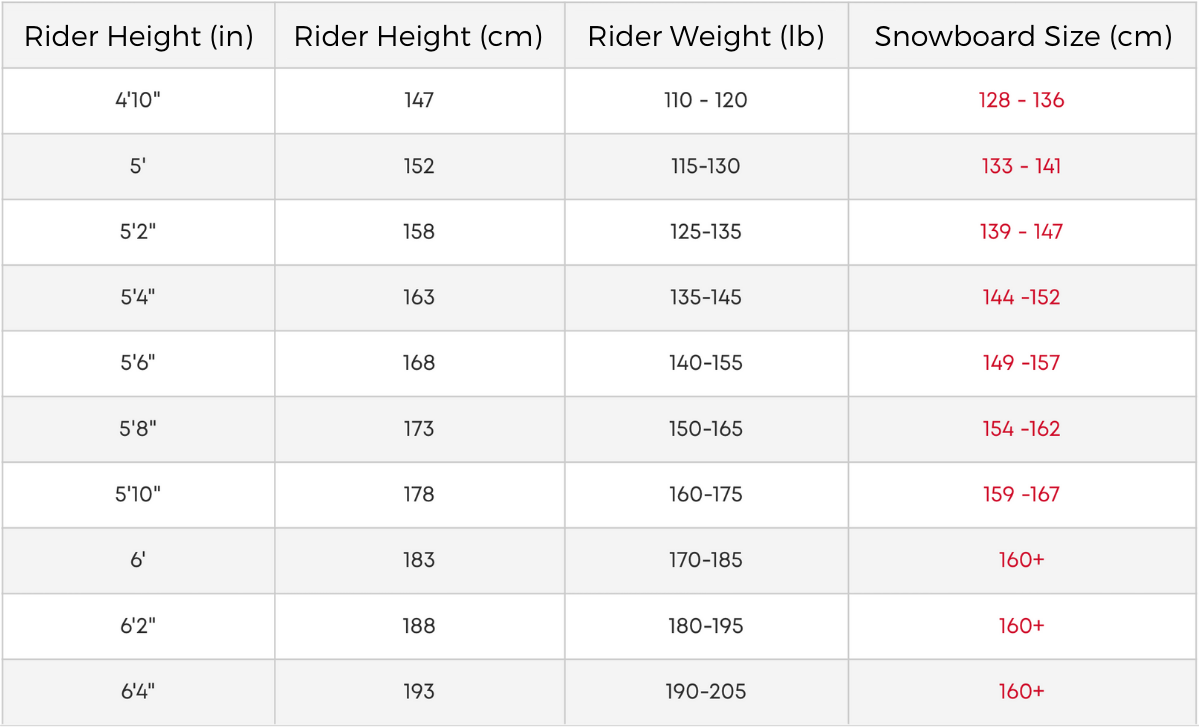 Board Width
Choosing the right board width is dependent on your boot size, so make sure you've got good-fitting boots before choosing a snowboard. With the right width board, your boots will extend just slightly over the edges of the board. If they overhang too much, they could drag and make you lose control.

* Men's boots size 12+ may require a special size "Wide" board to accommodate larger boot/binding.
Binding Compatibility
When matched to your board, boots, and ride style, snowboard bindings transfer energy and respond to your body's shifts for precise control. Choose bindings based on your riding style, ability level, board/boots compatibility, and comfort.

a. Standard Hole Patterns, 4x4 or 2x4 - most common, fits almost all bindings on the market
b. Burton Channel System - Has been standard on all Burton boards since 2014. Requires a Burton EST or Re:Flex binding or bindings that provide an adapter disc.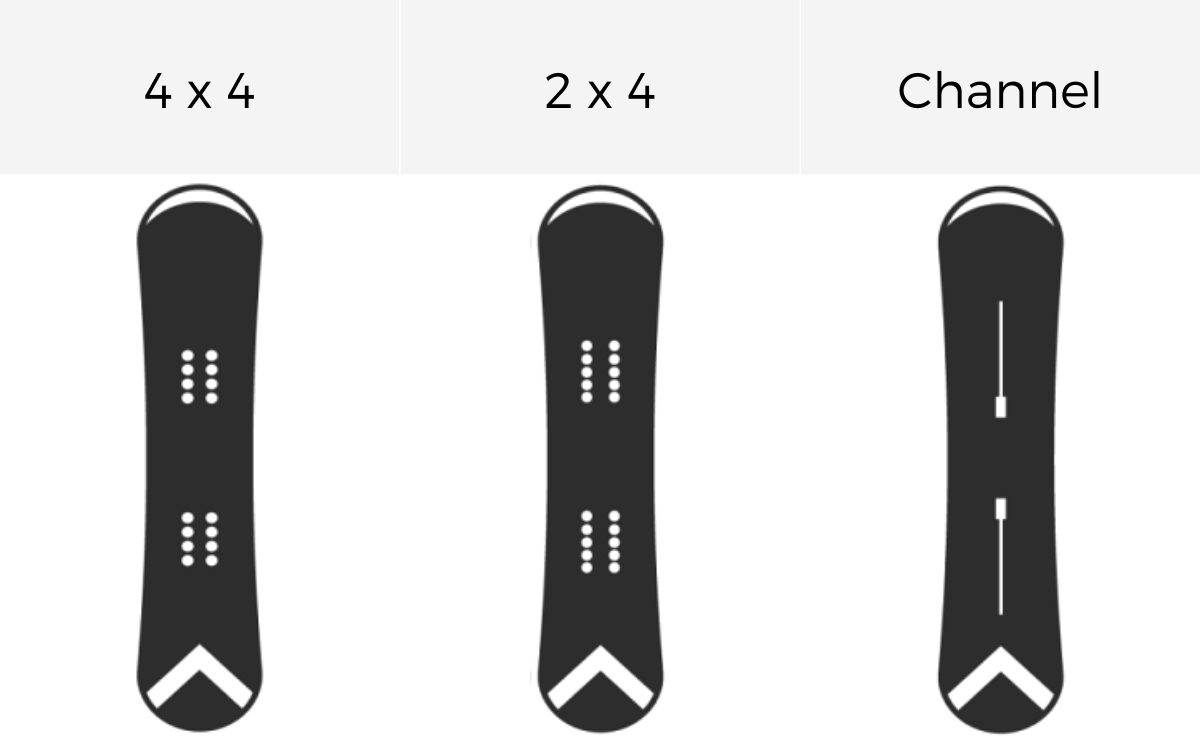 Still Have Questions?
It's easy to get lost in the abundance of options out there, so hopefully, this basic breakdown of snowboard features will help you find the perfect board for your carving goals. If you still have questions, we're here to help. You can call, or message us on Facebook during business hours seven days a week. Our staff spends a lot of time on the mountain… maybe even too much. They know their stuff and are more than happy to help make your snowboard buying experience 100% epic!
Read More:
Snowboard Binding Guide: Flex, Types & Compatibility
Browse Snowboarding Articles and Buying Guides
Looking for something else? Based in northeast PA, Ski Shack carries a full line of outdoor gear, clothing and accessories to help everyone in your family stay cozy, dry and safe in the great outdoors this season — no matter your experience or ability level.