With so much focus on picking the perfect snowboard, bindings are often treated as an afterthought. Snowboard bindings are actually one of the most important pieces of gear because they transfer your muscle movements to your board.
The better your bindings match your board and riding style, the more fun (and less fatigue) you'll have on the mountain. Buying the right kind of snowboard binding can seem confusing. In this article, we'll break down everything you need to know to choose the right snowboard bindings.
Snowboard Binding Flex

One thing to consider when choosing a binding is your riding style. Are you just starting out? Do you session the terrain park all day? Or do you prefer to charge the entire mountain?
Understanding how and where you like to ride will help determine the style and "flex" of the binding you choose.
Flex refers to the overall stiffness of the snowboard binding. Bindings are normally given a number from 1-10, with 1 being the softest and 10 being the stiffest. Usually, 1-2 translates to soft, 3-5 is medium, 6-8 is stiff, and 9-10 is very stiff. Number ratings and subjective feel can vary from binding to binding, so you'll want to get a feel for a binding before you buy.
Riders who do a little bit of everything end up in the all-mountain category and usually get bindings with medium flex. Freeriders often end up in powder and on steep terrain, so a stiffer flex works well for them, since it delivers better response and energy transfer. Park and freestyle boarders spend a lot of time laying down tricks in the terrain park, so a binding with a softer flex is best for them since it allows for softer, easier landings and more room for error.
Snowboard Binding Types

There are three different types of snowboard bindings: Two-Strap (these are the most common), Rear Entry, and Step On®, which is unique to Burton.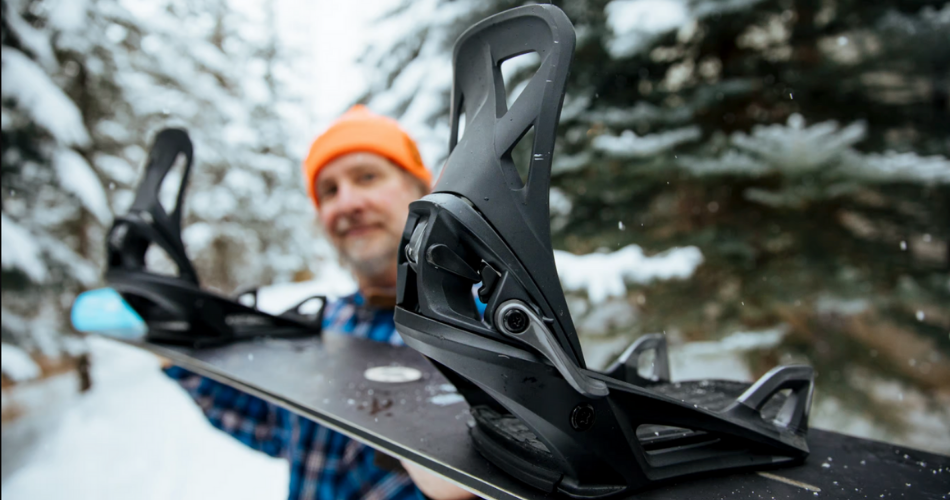 Two-Strap bindings have been the standard binding for years, because they are easy to use, secure, and responsive. You simply slide your foot into place and tighten the straps to secure yourself in. One pro is that these bindings can be very lightweight, but a major con is that they take time to secure, and may require sitting down to tighten, depending on your skill level and surrounding terrain.
Rear Entry bindings feature a high back and typically have a strap at the ankle or toe. To put these bindings on you pop open the high back, slide your foot into place, and then shut the high back. This style is quicker to get into than the traditional two-strap, so they're an awesome option when you normally ride with skiers who don't have to strap in at the top of each run. The downside is that they can be somewhat heavier than two-strap styles.
Step On® bindings are unique to Burton and they require Step On® compatible snowboard boots. This binding functions just as the name describes — simply step into the binding and click your heel in. These bindings are the lightest and fastest snowboard bindings on the market today. They are wonderful for beginners, people with back or knee injuries, or for boarders who require outstanding performance. Because the bindings and boots must be compatible, the main drawback is that they often cost the most.
Snowboard Binding Compatibility

Knowing whether your not your bindings are compatible with your snowboard is another key factor to consider when picking out bindings. Today most bindings are designed to work across different mounting systems. The main four types are 2x4, 4x4, Burton 3D, and Channel.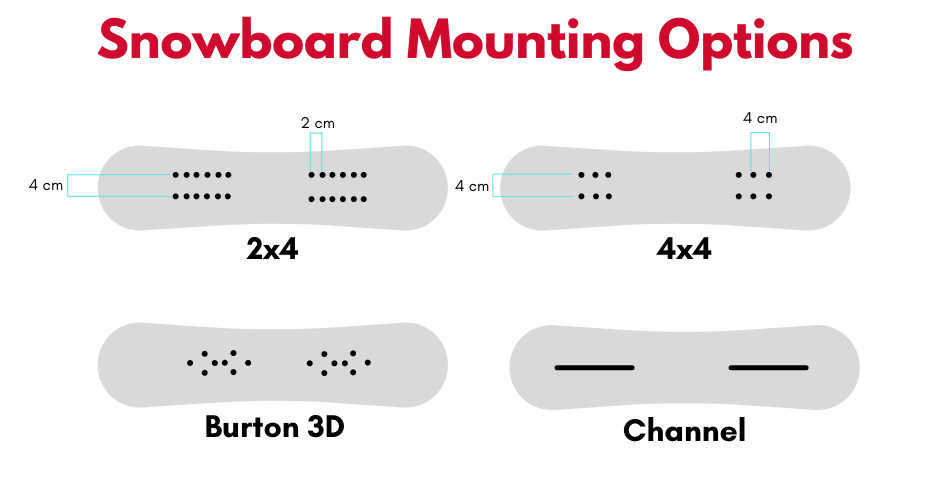 Most snowboards feature mounting patterns that are 2x4 cm, or 4x4 cm. Some Burton boards have a 3D mounting system, which uses six screws total in its design for less overall weight. Burton's Channel system is versatile and can be personalized. It cuts down on the screws required per binding, allows for more mounting options, and can be adjusted on the fly.
Burton Re:Flex vs. EST Bindings

Finally, let's talk about Burton Re:Flex and EST bindings and how they relate to the mounting systems.
Re:Flex bindings can be mounted to boards that have the Channel system, 3D system, or to a standard 2x4 or 4x4 system. Burton EST bindings bring out the best of the Channel and provide the ultimate performance, versatility and comfort. EST bindings can only mount to the Channel system. There are a few bindings from other manufacturers can be adapted to work with the Channel System by purchasing separate compatible discs.

We hope we've been able to help you get an idea of what to look for in a snowboard binding, as well as the different binding types, and different mounting systems.
If you're still not sure what the best option is for you, get in touch! One of our friendly, knowledgeable sfaff will be happy to guide you to the ideal binding for you. You can also browse our binding selection online — we offer free shipping on orders over $50.
Browse Snowboarding Articles and Buying Guides
Looking for something else? Based in northeast PA, Ski Shack carries a full line of ski and snowboard gear, clothing and accessories to keep your family cozy, dry and safe in the great outdoors this season — no matter your experience, budget, or ability level.