At the end of each winter, you should perform end-of-season maintenance on your equipment before stashing it away for the summer months. Keeping your equipment properly stored and cared for is a great way to help them last longer and can even improve your overall experience for the next season. That being said, let's get into our top recommendations for cleaning and storing your gear.
Cleaning Your Gear

The first thing you should do before putting ski or snowboard gear away is to clean it. This should be done by wiping everything down with a clean, damp towel to remove any dirt or debris left on your equipment. Let it dry thoroughly before putting it away. Don't forget your outerwear and accessories too! Wash and dry your jacket, pants, mid-layers, base layers, hats, gloves, and neck gaiters according to the directions on the label. Generally, we have found that most garments on the market these days are machine washable. Powder detergents, or those specifically formulated for outerwear, are best.
Storing Your Gear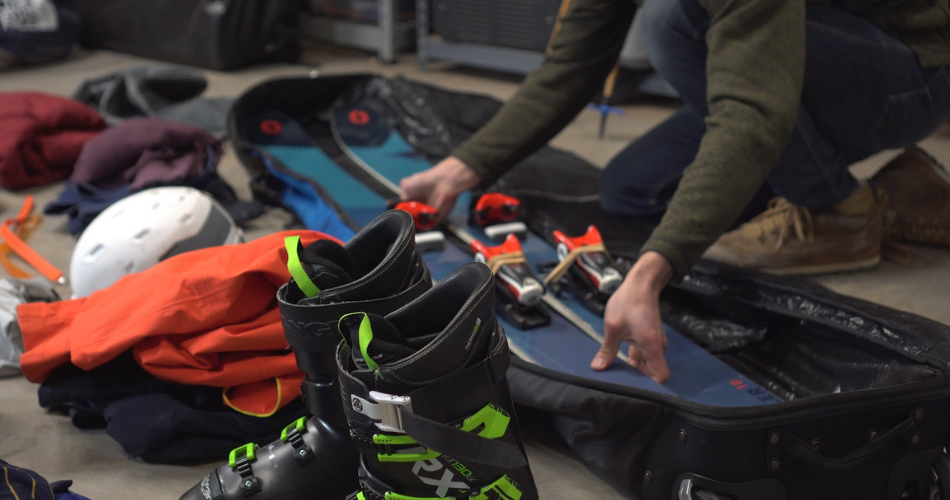 Once your gear is all clean, you can put it away. It is best to store all of your gear in one spot so that you don't lose anything in the off-season. A great way to do this is by keeping those items in your ski bag or a resealable tote bag. Skis and snowboards should be stored lying flat or leaning against an object. You don't want anything on top of these items since they could warp over time because of the weight. It is a good idea for skis to either be sat next to each other or gently placed together. All items should be stored in a cool and dry area away from sunlight, like an interior closet. We recommend avoiding basements or garages, or any other cold, damp spaces.
A Special Note about Boots

Before storing your boots for the season, ensure that the liners and exterior are completely dry. When it comes to ski boots, make sure to lightly buckle them closed, this helps them hold their shape. You should also take a look at the heels and toes pieces and replace them if worn. If you have snowboard boots, this is the perfect time to check out the laces to see if they need to be replaced.
Now that you know our tips on getting your gear ready for storage, you can properly store it away for the off-season. If you're not sure how to give your equipment a tune-up before putting it away, you can always stop by Ski Shack, where we can take care of it for you!